Recipes
Fried Cucumbers with Sour Cream Dipping Sauce
Skip the pickling and dunk these peppery, crispy, cukes into a green goddess-style dip.
Serves

serves 8-12

Cook

30 minutes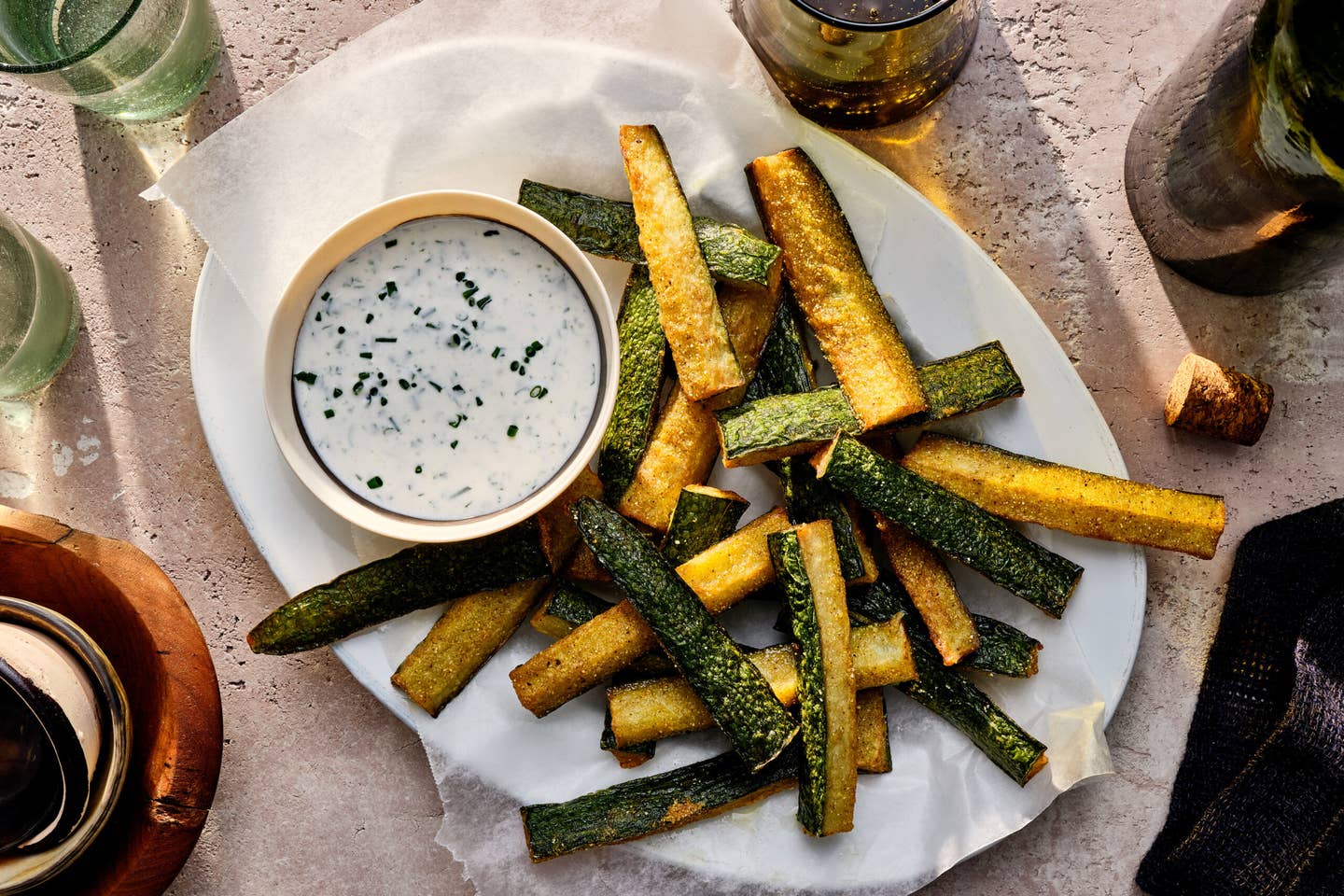 A cool, green goddess-style dip tempers the heat from the peppery cornmeal crust.
Ingredients
For the dipping sauce:
1 cup sour cream
2 tbsp. grated yellow onion
2 tbsp. milk
1 tbsp. finely chopped chives
1 tbsp. finely chopped parsley
1 tbsp. finely chopped tarragon
1 tbsp. fresh lemon juice
2 garlic cloves, mashed to a paste with 1 tsp. kosher salt
Kosher salt and freshly ground black pepper
For the cucumbers:
Vegetable oil
2 cups cornmeal
1½ cups all-purpose flour
2 tbsp. baking powder
1 tbsp. celery salt
1½ tsp. freshly ground black pepper
1½ tsp. garlic powder
1½ tsp. kosher salt, plus more to taste
1½ tsp. onion powder
1½ tsp. sweet paprika
1 tsp. cayenne pepper
1½ lb. Kirby cucumbers, halved lengthwise, seeded, and cut into 3 by ½-in. sticks
Instructions
Step 1
Make the sauce: In a bowl, whisk together the sour cream, onion, milk, chives, parsley, tarragon, lemon juice, garlic, onion, and salt and black pepper to taste. Cover and refrigerate.
Step 2
Attach a deep-fry thermometer to a skillet or Dutch oven set over medium-high heat and pour in oil to a depth of 2 inches. While the oil heats, in a large bowl, whisk together the cornmeal, flour, baking powder, celery salt, black pepper, garlic powder, salt, onion powder, paprika, and cayenne. Add the cucumbers and toss to coat, shaking off any excess. When the temperature reads 375°F, fry the cucumbers in batches, turning once or twice, until crisp and golden brown, about 2 minutes per batch. Using a slotted spoon, transfer the fried cucumbers to a paper-towel-lined plate. Serve hot with the reserved dipping sauce.