Recipes
Fein Tau Faluma tuma Adulu Tau Yuga (Coconut Bread with Cassava Porridge)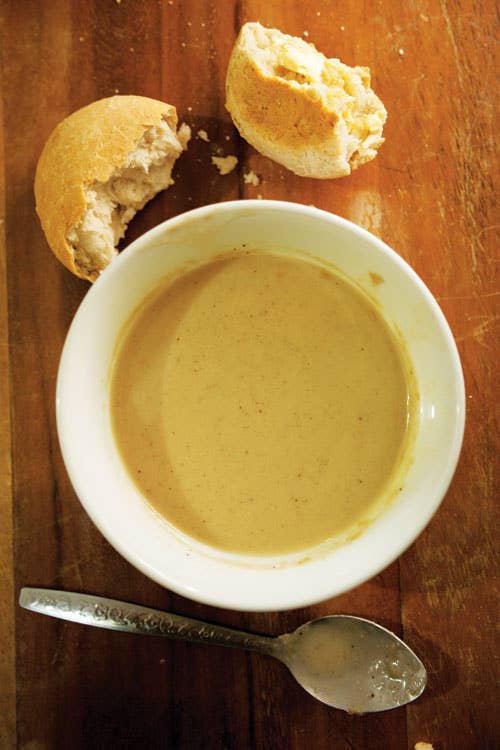 The quintesential Garifuna breakfast consists of yeasty coconut bread and a warming porridge made with cassava flour. This recipe first appeared in our November 2012 issue along with Betsy Andrews's story Cassava Nation.
Ingredients
1 tsp. sugar
1 (¼-oz.) package active dry yeast
6 1⁄2 cups coconut milk
1 tbsp. canola oil, plus more for greasing
1 tbsp. kosher salt
6 cups flour
2 cups unsweetened finely shredded coconut
8 oz. panela, finely chopped (available at Amazon.com), or 1 cup packed dark brown sugar
3 cups milk
2⁄3 cup cassava flour (available at Amazon.com)
1 tbsp. unsalted butter
2 tsp. vanilla extract
1 tsp. ground cinnamon
Instructions
Step 1
Stir together sugar, yeast, and ¼ cup water, heated to 115°, in a small bowl; let sit until foamy, about 10 minutes. Pour into a bowl along with 2½ cups coconut milk, oil, and salt; stir until smooth. Add flour and coconut; stir until dough forms. Transfer to a floured work surface; knead until smooth, about 8 minutes. Transfer to a lightly greased bowl, cover with plastic wrap, and let sit until doubled in size, about 45 minutes.
Step 2
Punch down dough and divide into 12 equal pieces; shape each piece into a ball, and transfer to 2 parchment paper-lined baking sheets. Cover and let sit until puffed, about 40 minutes.
Step 3
Heat oven to 350°. Bake until golden brown, about 45 minutes. Meanwhile, bring panela, both milks, cassava flour, butter, vanilla, cinnamon, and 4 cups water to a boil in a 4-qt. saucepan over medium heat; cook until thickened, about 20 minutes. Serve with bread on the side.