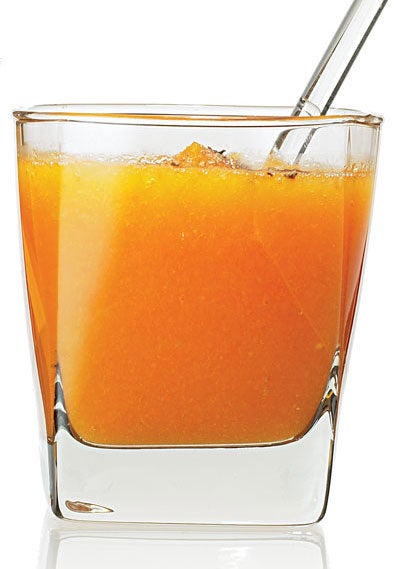 We got the idea for this refreshing drink from the New York City mixologist Dale DeGroff; we love the fresh yellow color of the drink. The recipe appeared on the SAVEUR 100 list from our January/February 2010 issue.
Yield: makes 2 Cocktails
Ingredients
1 yellow tomato, cored and roughly chopped
1 medium carrot, roughly chopped
1 rib celery, roughly chopped
1 small cucumber, peeled and roughly chopped
Kosher salt and freshly ground black pepper, to taste
3 oz. chilled vodka
Instructions
Combine tomatoes, carrots, celery, cucumbers, salt, and pepper in a blender; purée. Set a sieve over a bowl and strain, discarding solids. Chill juice.
To serve, pour juice into 2 glasses and stir in chilled vodka.