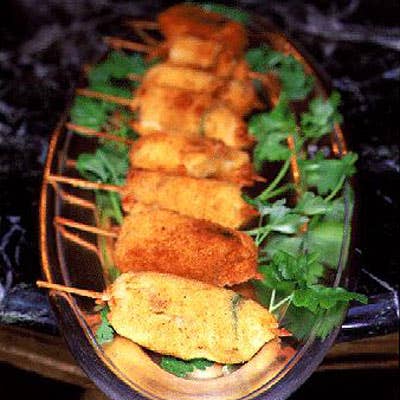 This dish of skewered meats and vegetables coated with bechamel and bread crumbs, then fried, is a Genoese classic—but it is also very similar to the classic French preparation called attereaux. Who first invented it is a matter of debate.
Whatever their origins, stecchi have a mysteriously pleasant surprise of ingredients, encased in a crisp, golden-brown coating.
2 tbsp. extra-virgin olive oil
1/4 lb. veal sweetbreads
1/2 calf's brain, about 1/4 lb.
1/2 lb. veal loin, cut into 8 equal pieces
Salt and freshly ground black pepper
8 baby artichokes
Juice of 1 lemon
2 small carrots, peeled and cut into 8 equal pieces
2 small zucchini, cut into 8 equal pieces
1/2 cup butter
2 cups flour
4 cups milk, warmed
Pinch freshly ground nutmeg
4 eggs, lightly beaten
1 1/2 cups fine dried bread crumbs
8 small white mushrooms
Vegetable oil for frying
Heat olive oil in a large skillet over medium-high heat. Remove visible membranes from sweetbreads and saute them with brains, 15-20 seconds per side. Remove with a slotted spoon and set aside. Add veal to skillet and cook, stirring, until brown, about 4 minutes. Remove with a slotted spoon and set aside with brains and sweetbreads. Season meats with salt and pepper.

Trim artichokes, removing tough outer leaves and stem. Place in water mixed with lemon juice. Bring a small pot of salted water to a boil over high heat. Add carrots and cook for 5 minutes, then add zucchini and continue cooking until tender, about 3 minutes. Remove with a slotted spoon; refresh in cold water. Add artichokes to boiling water; cook until tender, about 5 minutes. Drain and refresh.

For bechamel, melt butter in a medium sauce-pan over low heat. Whisk in 1 cup flour; cook until thick and beginning to bubble, 1-2 minutes. Slowly whisk in milk. Increase heat to medium; cook, whisking, until bechamel reaches a simmer, 7-10 minutes. Season with nutmeg and salt and pepper; transfer to a shallow bowl. Place a piece of plastic wrap directly on sauce to prevent a "skin" from forming, and cool to room temperature. Meanwhile, place eggs, bread crumbs, and remaining flour in 3 shallow bowls.

To assemble, cut brains and sweetbreads into 8 pieces each; thread them, along with veal, carrots, zucchini, artichokes, and mushrooms onto 8" skewers, begin with artichokes and finish with mushrooms.

Coat skewers with bechamel. (Sauce will be thick, so it will be easiest to use a spoon to smooth it on.) Roll skewers in flour, then egg, then bread crumbs. Heat about 1" oil in a large, deep skillet over medium-high heat. Fry stecchi in batches until golden on all sides, 7-10 minutes. Drain on paper towels, sprinkle with salt, and serve warm.