Recipes
Samaki Wa Kupaka (Swahili-Style Grilled Fish with Tamarind)
A bright and elaborately spiced coconut marinade defines this quick, flame-cooked dish.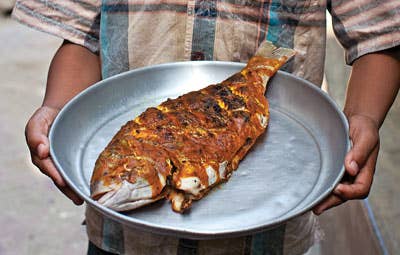 This Swahili recipe, for a whole fish basted in a tart tamarind sauce, calls for a grilling basket, which allows you to turn the fish without damaging.
Ingredients
1 (2–3-lb.) whole fish, such as red snapper, porgy, or striped bass, cleaned
Kosher salt and freshly ground black pepper, to taste
6 cloves garlic, minced
2 green birds'-eye chiles, stemmed, seeded, and minced
1 (2") piece ginger, peeled and minced
Juice of 2 limes
1 cup canned coconut milk
1⁄4 cup tamarind paste or 2 tbsp. tamarind concentrate
1⁄2 tsp. curry powder
1⁄2 tsp. ground coriander
1⁄4 tsp. cayenne pepper
Canola oil, for brushing
Instructions
Step 1
Put fish into a 9" x 13" baking dish and cut three evenly spaced 1⁄4"-deep crosswise slits into each side of the fish. Season fish cavity and skin with salt and pepper. Combine garlic, chiles, ginger, and lime juice in a small bowl and rub cavity and skin of fish with the garlic mixture. Cover dish with plastic wrap and refrigerate for 1 hour.
Step 2
Meanwhile, heat the coconut milk, tamarind, curry powder, coriander, and cayenne in a 2-qt. saucepan over low heat and cook, stirring often, until tamarind is dissolved (about 15 minutes for the paste or 1 minute for the concentrate). Remove pan from the heat and set aside. Build a medium-hot fire in a charcoal grill or heat a gas grill to medium-high. (Alternatively, arrange a rack 4" from broiler element and set oven to broil.) Brush the inside grates of grilling basket with oil. Uncover fish, transfer it to grilling basket, and brush with some of the tamarind sauce. Cook fish, flipping every few minutes and basting often with tamarind sauce, until cooked through, about 15 minutes. Transfer fish to a serving platter; serve hot or at room temperature.