Honey-Roasted Belgian Endives and Parsnips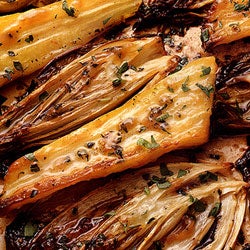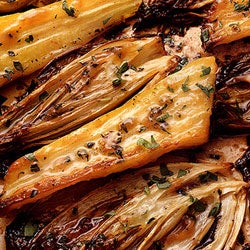 This recipe is borrowed from: Sally Clarke's Book:A Restaurant, Shop and Bakery (Mc Millian). Sally Clarke is a top chef and restaurateur in London.
Yield: serves 2-4
Ingredients
12 small parsnips, peeled, tops and tails trimmed
6 medium-size Belgian endives
4 tbsp. unsalted butter
1 1⁄4 cups olive oil
1 tbsp. honey
2 tsp. chopped thyme
Maldon or other coarse sea salt
Freshly ground black pepper
1 tbsp. chopped Italian flat-leaf parsley leaves
Instructions
Preheat oven to 350°. Bring a pan of salted water to boil and cook parsnips until they have just started to lose their firmness, approximately 10 minutes. Drain and place in a gratin dish or another ovenproof dish.
Halve the endives or cut them lengthwise into four, depending on the size, remove as much of the bitter core as possible (without releasing the leaves) with a small sharp knife, and arrange the pieces neatly with the parsnips.
In a small pan, heat the butter, olive oil, honey, thyme, and salt and pepper to taste until bubbling, and drizzle over the vegetables evenly. Roast for up to 20 minutes or until the vegetables have begun to caramelize and soften. Sprinkle with the parsley and serve immediately.