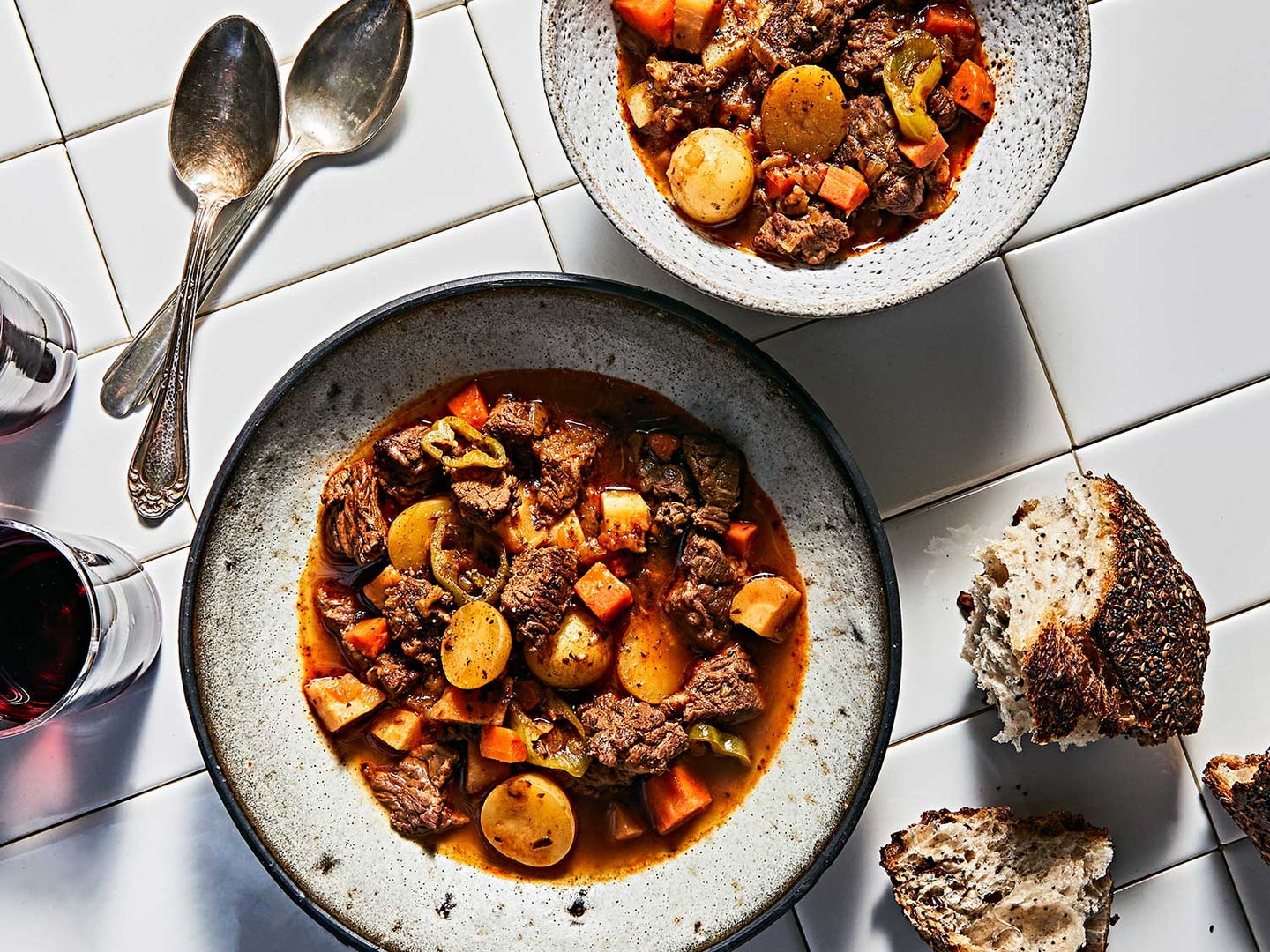 The recipe for this hearty, savory soup comes from Katalin Bánfalvi, author Carolyn Banfalvi's mother-in-law, who lives in the village of Bõny, in northwestern Hungary. Hungarian sweet paprika confers a singularly deep, rich color and flavor.
Featured in: The Key to Mastering Goulash, the World's Most Famous Stew
Hungarian Goulash
This authentic goulash recipe comes from northwestern Hungary and relies on sweet paprika for that singularly deep, rich russet color and earthy flavor.
Time: 1 hour, 45 minutes
Ingredients
4 Tbsp. sunflower or canola oil
2 yellow onions, chopped
1½ lb. beef chuck, trimmed and cut into ½-inch cubes
Kosher salt and freshly ground black pepper
¼ cup sweet paprika
2 tsp. dried marjoram
2 tsp. caraway seeds
2 cloves garlic, finely chopped
2 medium carrots, cut into ½-inch cubes
2 medium parsnips, cut into ½-inch cubes
1½ lb. medium new potatoes, peeled and cut into ½-inch cubes
1 tomato, cored and chopped
1 Italian frying pepper, chopped
Rye bread, for serving (optional)
Instructions
Heat the oil in a 5-quart Dutch oven over medium. Add the onions, cover, and cook, stirring occasionally, until soft and translucent, about 10 minutes. Increase the heat to high. Add the beef, and season with salt and pepper. Cook, uncovered, stirring only once or twice, until the meat is lightly browned, about 6 minutes. Stir in the paprika, marjoram, caraway, and garlic, and cook until fragrant, about 2 minutes. Add the carrots, parsnips, and 5 cups water. Bring to a boil, then reduce heat to medium and simmer, covered, until the beef is nearly tender, about 40–50 minutes.
Add the potatoes and cook, uncovered, until tender, about 25 minutes. Stir in the tomatoes and peppers; cook for 10 minutes. Season with salt and pepper. Serve, with rye bread if desired.