Kansas City Barbecue Sauce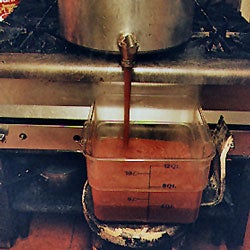 We got the recipe for this tangy sauce from Remus Powers, who founded the Diddy-Wa-Diddy National Barbecue Sauce Contest, now part of the American Royal BBQ Contest, the world's biggest competitive BBQ cookoff. It's perfect over ribs, chicken, or any barbecued meat.
Yield: makes 2 CUPS
Ingredients
1⁄4 tsp. allspice
1⁄4 tsp. ground cinnamon
1⁄4 tsp. ground mace
1⁄4 tsp. freshly ground black pepper
1⁄2 tsp. curry powder
1⁄2 tsp. chili powder
1⁄2 tsp. paprika
1⁄4 cup white vinegar
1⁄2 tsp. hot sauce, such as Tabasco
1 cup ketchup
1⁄3 cup dark molasses
Instructions
Sift together allspice, cinnamon, mace, pepper, curry powder, chili powder, and paprika into a bowl. Stir in vinegar, then add hot sauce, ketchup, and dark molasses and mix until very well blended. Serve warm or at room temperature. Sauce may be stored in an airtight container in refrigerator for 2-3 weeks or in freezer for up to 6 months.