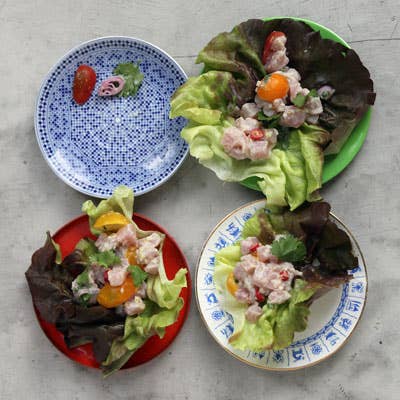 This recipe was developed by test kitchen assistant Monica Floirendo.
1lb. tuna, sushi quality
1 medium shallot, thinly sliced
½ cup cherry tomatoes, sliced in half
2 scallions, thinly sliced (green part only)
1 ½ tbsp. ginger, minced
1 cup coconut vinegar
3 Thai chilis, thinly sliced crosswise
¼ cup coconut cream
The juice of 3 Limes, plus the zest of 1
Butter Lettuce, to serve
1. Dice tuna into ¼" x ¼" pieces; refrigerate.
2. When very cold, rinse the fish with the coconut vinegar; discard the the remaining vinegar. Add the shallots, ginger, chili, tomatoes, salt, lime juice, zest (? what happened to zest?) and the coconut milk (enough to coat).
3. Garnish with the cilantro and scallions. Serve immediately on individual Butter Lettuce leaves.
NOTES:
As for the coconut Cream, the brand Chaokoh sells it in a can. Otherwise you can buy regular coconut milk, refrigerate it until cold, and skim the cream from the top of the can.
You can substitute Coconut Vinegar for Palm or Cane Vinegar.