La Grand Bouffe: Jacques Pepin's Apple Tart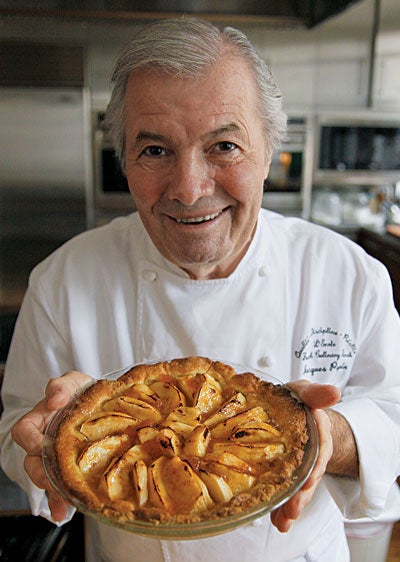 This classic comedy, in which four friends arrange a weekend of indulgence and gastronomic decadence, is a must-see for any film foodie. During the weekend they enjoy an enormous apple tart baked in the shape of a voluptuous woman's rear. We present master chef and arbiter of true French cooking Jacque Pepin's own apple tart recipe.
La Grand Bouffe: Jacques Pepin's Apple Tart
Master chef and arbiter of true French cooking, Jacque Pepin, presents his own apple tart recipe.
Ingredients
1 1⁄4 cups flour
3 tbsp. sugar
1 tsp. baking powder
1⁄4 tsp. kosher salt
5 tbsp. unsalted butter, cut into ½" cubes and chilled
3 tbsp. vegetable shortening
2 tbsp. milk
1 egg, lightly beaten
2 Golden Delicious, Empire, or Cortland apples, peeled, cored, and cut into 8-12 wedges
2 tbsp. apricot preserves or jam
Instructions
Heat oven to 375°. In a large bowl, whisk together flour, 1 tbsp. sugar, baking powder, and salt. Add 3 tbsp. butter and the shortening and, using your fingers, rub into flour mixture to form coarse pea-size pieces. Add milk and egg and stir with a wooden spoon until just combined. Bring dough together with your hands. Transfer dough to a 9″ glass pie plate and, using lightly floured fingers, press dough into bottom and sides; refrigerate for 30 minutes.
Arrange apple wedges side by side on bottom of pie plate like the spokes of a wheel, pushing gently into the dough as you go. Halve remaining apples and put in middle of tart. Sprinkle apples with remaining sugar and dot with the remaining chilled butter. Bake until the crust is golden, about 45 minutes. Using a pastry brush, brush apricot preserves over the tart and bake for 10 minutes more. Let cool for at least 15 minutes before serving.