Lamb Burgers with Mint Sauce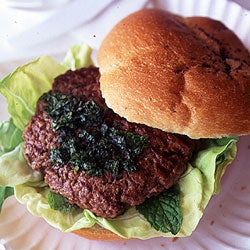 During a visit to the Iowa State Fair we sampled this juicy burger—the Iowa Sheep Industry Association's alternative to the classic hamburger.
Yield: serves 4
Ingredients
2 tsp. sugar
3 tbsp. white wine vinegar
1⁄2 cup minced mint leaves, plus whole mint leaves for garnish
1 1⁄2-2 lb. ground lamb
1 tsp. vegetable oil
Salt and freshly ground pepper
4 kaiser rolls or hamburger buns
4 large leaves boston lettuce
Instructions
Stir together sugar, vinegar, and 2 tsp. hot water in a small bowl until sugar has dissolved. Add mint and set aside.
Divide lamb into 4 portions, and shape each into a thick patty. Lightly brush a grill pan with oil and place over medium heat. When pan is hot but not smoking, place patties on pan and cook for 3 minutes per side, for a medium-rare burger. Season to taste with salt and pepper.
Serve burgers on rolls or buns, topped with mint sauce and garnished with lettuce and whole mint leaves.