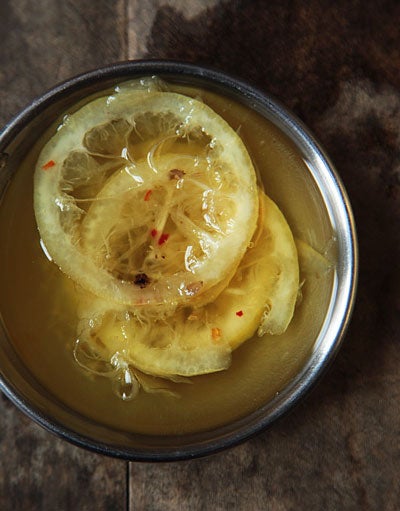 The oil in this simple preparation is used both to cook and to preserve sliced lemons.
Yield: makes 2 1/2 cups
Ingredients
2 lemons
1 1⁄2 cups extra-virgin olive oil
1 tsp. cracked coriander seeds
1 tsp. cracked fennel seeds
1 tsp. kosher salt
1⁄2 tsp. crushed red chile flakes
2 bay leaves
Instructions
Halve lemons crosswise and squeeze their juice into a bowl; set juice aside.
Thinly slice juiced lemons crosswise and transfer lemons, reserved juice, and remaining ingredients to a 1-qt. saucepan over high heat. Bring mixture to a simmer, reduce heat to medium-low, and cook, stirring occasionally, for 15 minutes.
Remove pan from heat; let cool. Transfer lemon confit to a glass jar, cover, and refrigerate. Confit will keep, refrigerated, for 3 weeks.