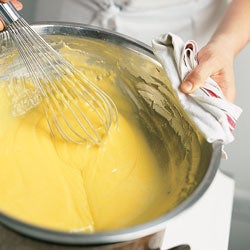 Delicious combined with whipped cream for the Raspberry Tart with Lemon Curd Whipped Cream, this lemon curd is also wonderful added to buttercream frostings or slathered between cake layers.
Yield: makes 1 1/4 Cups
Ingredients
2 egg yolks
1 whole egg
6 tbsp. sugar
1⁄3 cup fresh lemon juice
1⁄2 tsp. finely grated lemon zest
5 tbsp. cold butter, cut into pieces
Instructions
Whisk together egg yolks, whole egg, sugar, lemon juice, and lemon zest in a medium mixing bowl until well combined.
Set bowl over a medium pot of simmering water over medium-low heat and cook, whisking constantly, until thick, 8–10 minutes.
Whisk in butter, a few pieces at a time, until completely incorporated. Transfer to a clean bowl, cover surface with plastic to prevent skin from forming, and set aside to let cool. Refrigerate for up to 2 weeks.