Recipes
Samak Imtabal Maqli (Lemon-Stuffed Fried Fish with Green Chile Rub)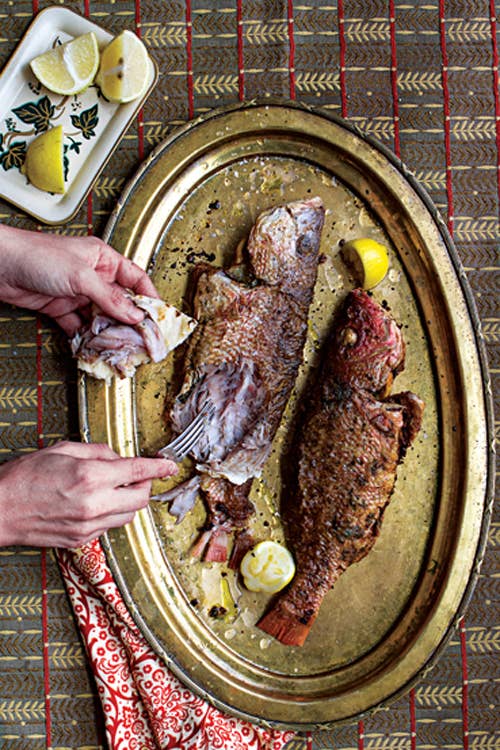 This recipe for whole fried fish with garlic, fiery chiles, lemons, and earthy spice originated in Yaffa and came courtesy of The Gaza Kitchen. It first appeared in our December 2013 issue along with Nancy Harmon Jenkins' article Heart of Palestine.
Ingredients
2 whole red snapper (about 1-lb. each), cleaned and scaled
1⁄3 cup finely chopped dill
1⁄4 cup olive oil
1 tbsp. ground cumin
2 tsp. ground coriander
1 tsp. freshly ground black pepper, plus more to taste
8 cloves garlic, minced
2 serrano chiles, minced
Zest and juice of 1 lemon, plus 2 lemons, thinly sliced, and wedges for serving
Kosher salt, to taste
Toothpicks, for sealing
1 cup flour
Canola oil, for frying
Flatbread, for serving (optional)
Instructions
Step 1
Place fish on a baking sheet. Mix dill, oil, cumin, coriander, 1 tsp. pepper, plus garlic, chiles, lemon zest, juice, and salt in a bowl; rub over inside and outside of fish. Place lemon slices inside fish; seal closed using toothpicks. Cover with plastic wrap; chill 30 minutes.
Step 2
Spread flour on a plate. Heat ½" canola oil in a 12" skillet until a deep-fry thermometer reads 350°. Working with one fish at a time, dredge in flour, and fry, flipping once, until crisp and cooked, 6–8 minutes. Transfer to paper towels and season with salt and pepper; serve with lemon wedges and flatbread, if you like.