Trenette col Pesto Genovese (Linguine with Pesto)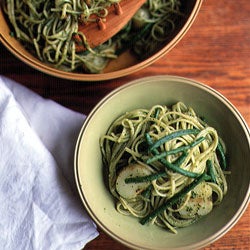 Trenette, so-called because they're thought to resemble train tracks, are a Ligurian version of linguine. (NOTE: Don't substitute pecorino romano for pecorino sardo.)
Trenette col Pesto Genovese (Linguine with Pesto)
The addition of green beans and potatoes to this dish may seem unusual but it is a genuine Ligurian tradition.
Ingredients
1 clove garlic, peeled and chopped
3 tbsp. pine nuts
2 cups small basil leaves (tightly packed), washed and dried
Coarse salt
1⁄2 cup grated pecorino sardo or parmigiano-reggiano, or ¼ cup of each
1⁄2 cup extra-virgin olive oil, preferably Ligurian (or another mild and fruity oil)
1⁄2 lb. green beans, trimmed
1⁄2 lb. new potatoes, scrubbed and peeled
1 lb. trenette, tagliatelle, or linguine
Instructions
Crush garlic and pine nuts in a large mortar to make a smooth paste.
Add basil to mortar a little at a time. Crush to a coarse paste, grinding leaves against side of mortar with pestle. Add a pinch of salt and continue crushing, then gradually stir in cheese.
Drizzle in olive oil and continue working until pesto is very smooth and no large pieces of basil are visible. Set aside.
Cook green beans for about 3 minutes in boiling water. Remove with a slotted spoon. In the same water, boil potatoes until tender, about 5–7 minutes. Drain, cool, and slice.
Bring a large pot of salted water to a boil over high heat and cook pasta until tender, about 8–10 minutes. Drain, but reserve 2 tbsp. pasta water and add it to pesto.
In a large serving bowl, toss pasta, green beans, potatoes, and pesto. Season to taste with salt and serve immediately.
VARIATION: To use a food processor, place pine nuts, garlic, and salt in the processor bowl and blend to a paste. Add basil, drizzle in oil, and process until smooth. Transfer to a bowl and stir in grated cheese by hand.