Recipes
Savory Lokshen Kugel
This rib-sticking noodle casserole will steal the show on any Jewish holiday table.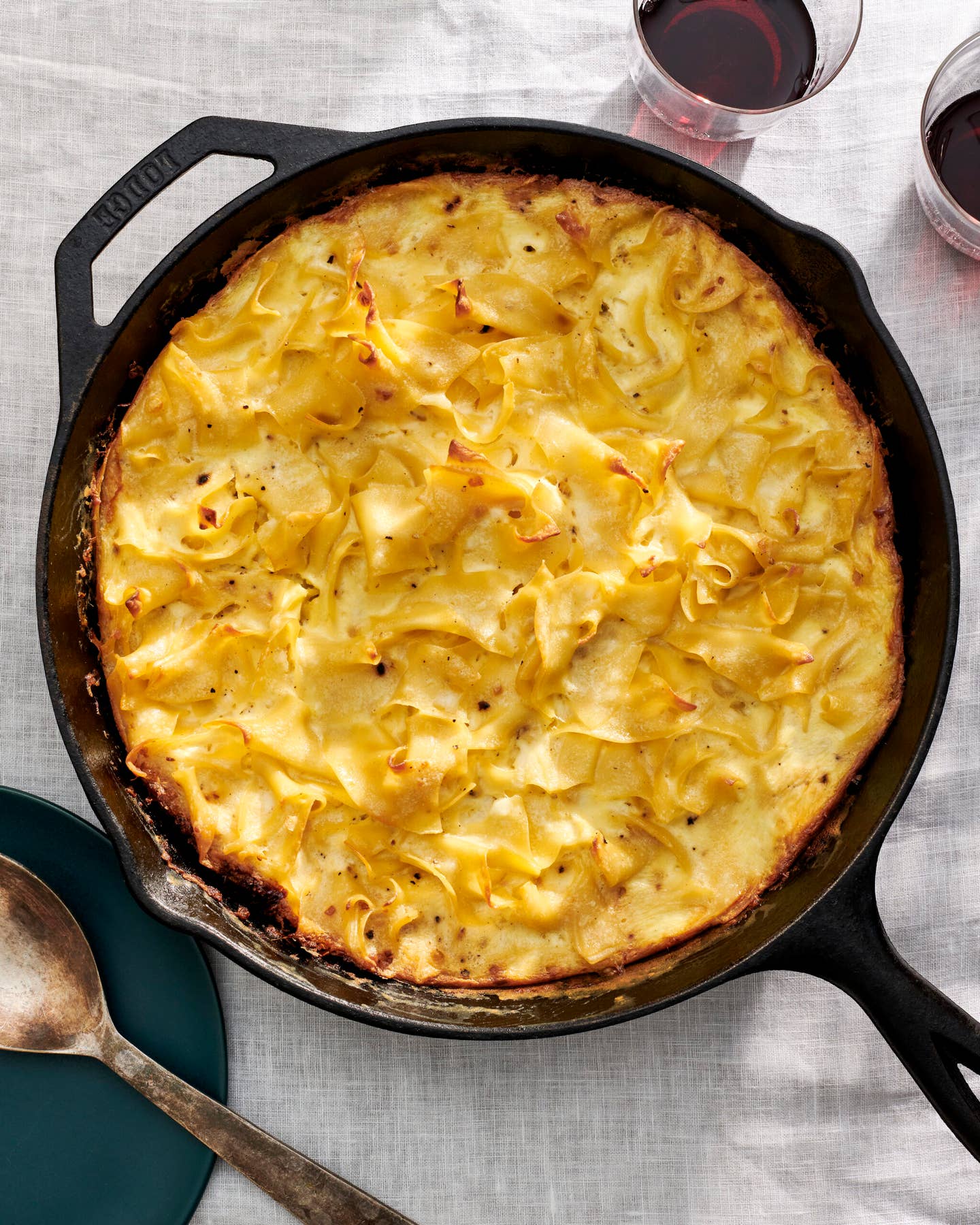 Noodle kugel is a festive staple that graces many Jewish families' tables during holidays like Rosh Hashana. Though the casserole is typically a sweet dish, this version is savory, flavored with garlic and onions. We recommend making this lokshen kugel recipe in a cast-iron skillet—around 12 inches is ideal—for even cooking and crisp edges.
Ingredients
1½ cups sour cream
1¼ cups cottage cheese
8 Tbsp. unsalted butter, melted, divided
4 large eggs, lightly beaten
8 oz. wide egg noodles
Kosher salt and freshly cracked black pepper
4 garlic cloves, finely chopped
1 large yellow onion, finely chopped
Instructions
Step 1
Preheat the oven to 350°F. In a large bowl, whisk together the sour cream, cottage cheese, 6 tablespoons of butter, and the eggs.
Step 2
Set a large pot of salted water over high heat, bring to a boil, then add the noodles and cook, stirring occasionally, until al dente, about
8 min
utes. Drain the noodles, return to the pot, then stir into the sour cream mixture, and season with salt and black pepper to taste.
Step 3
To a large cast-iron skillet over medium-high heat, add the remaining butter. When the butter is hot, add the garlic and onion and cook, stirring occasionally, until just beginning to brown, about 8 minutes. Stir in the noodles, transfer to the oven, and bake until golden-brown, 35–40 minutes. Serve warm.