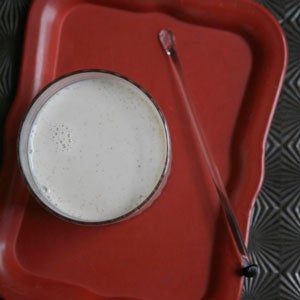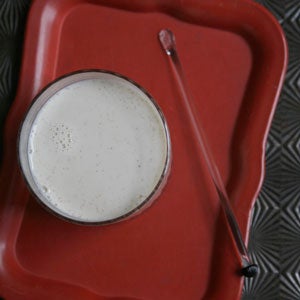 Milk punch, introduced to the British Isles by merchants from the East India Company, was fashionable in England in the early 18th century. This recipe is an adaptation of one that appears in Esquire's Handbook for Hosts (Grosset & Dunlap, 1949).
Martinique Milk Punch
This tasty punch is a great way to drink your milk and have your rum, too.
Ingredients
3 egg yolks
1 qt. milk
1⁄4 cup sugar
1⁄4 tsp. ground cinnamon
1⁄4 tsp. freshly grated nutmeg
1⁄4 tsp. vanilla extract
Strips of zest from 1 lemon
3⁄4 cup aged rum (rhum vieux)
Instructions
Put egg yolks into a large bowl and set aside. Pour milk into a small pot and bring to a simmer over medium-high heat. Add the milk to the yolks in a slow, steady stream while whisking constantly. Add sugar, cinnamon, nutmeg, vanilla extract, and lemon zest. Stir well to combine.
Add rum, stir well, and strain. Pour the punch into cups and serve while still hot.