Huevos Motuleños (Eggs in Tortillas with Ham and Peas)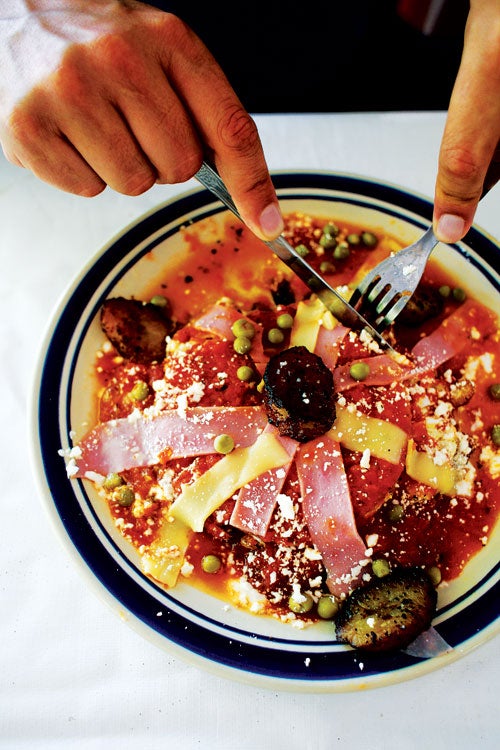 This Yucatan-style breakfast dish, topped with peas, ham, and Gouda or Edam cheese, has a spicy habanero and tomato sauce. This recipe first appeared in our August/September 2012 issue with Mauricio Velazquez de Leon's article Queen of the Yucatan.
Yield: serves 4
Ingredients
1 cup canned black beans
2 habanero chiles, stemmed and seeded
2 sprigs epazote (available at melissas.com) or cilantro
1 medium white onion, cut into thick slices
3 tbsp. lard or canola oil
1 lb. plum tomatoes, cored
5 tbsp. canola oil, plus more for frying
Kosher salt, to taste
8 corn tortillas
1 small, ripe plantain or large banana, peeled and cut into 1/4″ slices
4 eggs
2 oz. deli-sliced ham, cut into 1/2″ strips
2 oz. deli-sliced Gouda or Edam, cut into 1/2″ strips
1⁄2 cup canned peas
1⁄4 cup crumbled queso Cotija
Instructions
Purée beans, 1 chile, epazote, 1⁄4 the onion, and 1⁄4 cup water in a blender until very smooth, at least 2 minutes. Heat lard in a 12″ skillet over medium-high heat. Add bean purée, and cook, stirring constantly, until thickened to a loose paste, about 4 minutes. Transfer to a bowl and set beans aside.
Wipe skillet clean, and return to heat; add remaining chile, onion quarters, and tomatoes, and cook, turning as needed, until charred all over, about 14 minutes for chile and tomatoes, about 12 minutes for onions. Transfer to a blender along with salt, and purée until very smooth, at least 2 minutes. Return skillet to heat along with 3 tbsp. oil; when hot, pour salsa into skillet, and cook, stirring constantly, until slightly reduced and thickened, about 10 minutes. Transfer to a bowl and keep warm.
Pour oil to a depth of 2″ in a 6-qt. Dutch oven, and heat over medium-high heat until a deep-fry thermometer reads 360°. Working in batches, add tortillas, and fry, turning once, until crisp and golden brown, about 3 minutes. Transfer to paper towels and set aside. Add plantain or banana slices to oil, and fry until tender and caramelized, about 2 minutes. Wipe skillet clean, and return to medium heat with remaining 2 tbsp. oil. Add eggs to skillet, and cook to desired doneness, about 4 minutes for over easy.
Spread about 3 tbsp. black beans over 4 tortillas on serving plates, and then place an egg on top. Cover eggs with remaining tortillas, and pour salsa over tortillas; arrange ham and Gouda or Edam slices on top; top with peas; and sprinkle with Cotija. Place fried plantain or banana slices around tortillas to serve.