Recipes
Oaxacan Red Chile Enchiladas (Enchiladas de Chile Ajo)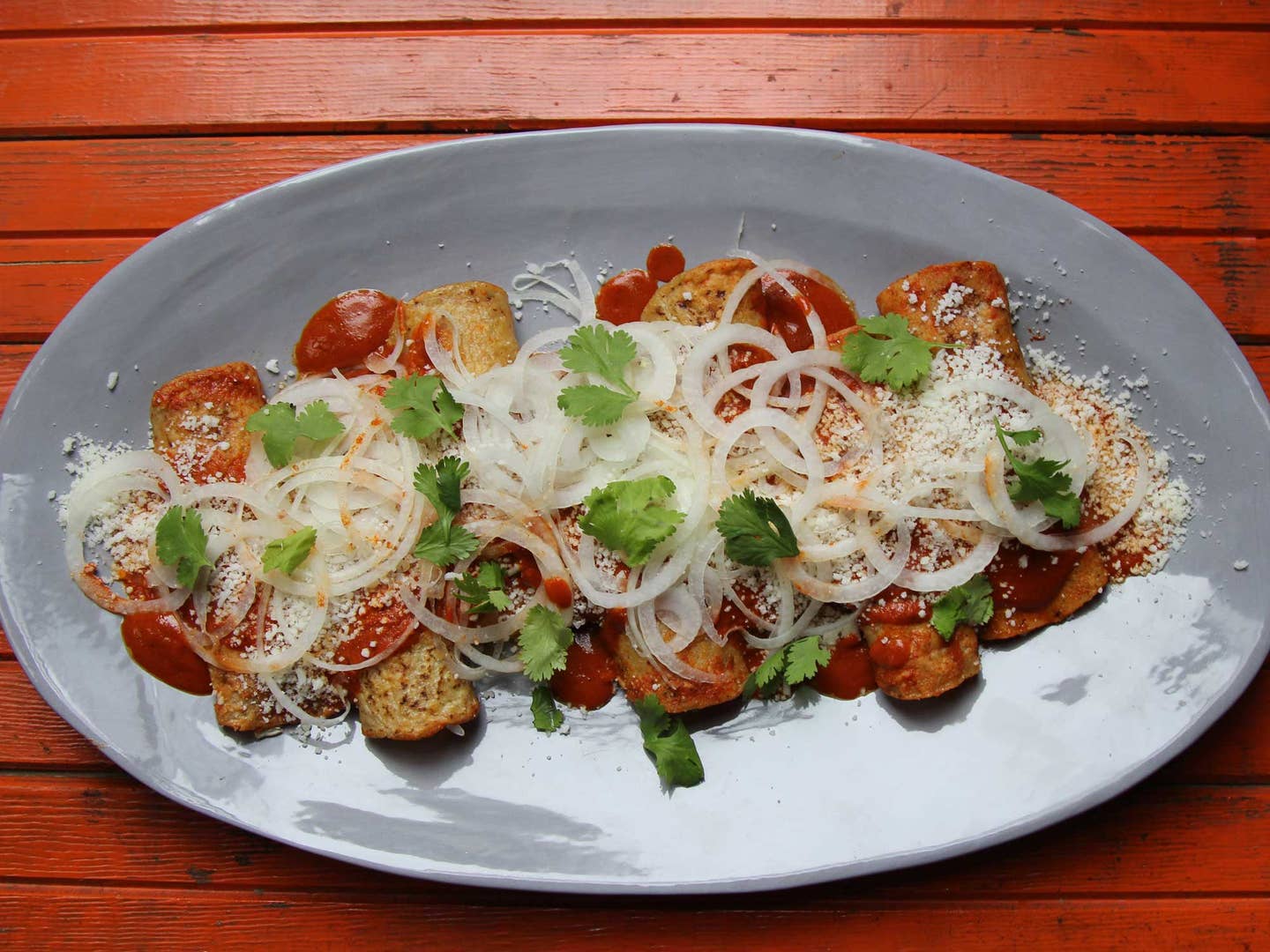 These classic Oaxacan-style enchiladas, stuffed with chicken and doused in a sweet chile-and-garlic sauce, come from Iliana de la Vega, chef-owner of El Naranjo in Austin, Texas.
On charring fresh ingredients "The reason we char tomatoes, fresh chiles, onions, and garlic before adding them to a dish like the enchiladas de chile ajo is to concentrate the flavor, especially when they are underripe. It also adds a subtle smoky depth to the overall flavor of the dish. I cook them on a comal or skillet over medium-high heat, or under a broiler, until the skins are blackened and, in the case of tomatoes, the flesh is soft." —Hugo Ortega, chef-owner of Hugo's in Houston, Texas
Ingredients
3 oz. dried guajillo chiles
8 cloves garlic, peeled
6 plum tomatoes, cored
2 serrano chiles, stemmed
1 large white onion, cut into 1/4" slices, divided, plus 1 medium white onion, minced
1 cup plus 1 tbsp. canola oil, divided
2 cups chicken stock
1 tsp. dried Mexican oregano
1 tsp. dried thyme
1⁄4 tsp. freshly ground black pepper
1⁄4 stale bolillo (see Mexico's Daily Breads) or 1 slice white sandwich bread, toasted and crumbled
1⁄4 cup finely chopped piloncillo or packed light brown sugar
2 tbsp. fresh lime juice
18 (6-inch) corn tortillas
1 1⁄2 cups shredded cooked chicken (approximately one 8-oz chicken breast)
3⁄4 cup crumbled Cotija, plus more to garnish
Sliced white onion rings and cilantro leaves, to garnish
Kosher salt, to taste
Instructions
Step 1
Heat a 12" skillet over high heat, and add the guajillo chiles. Cook, turning once, until lightly toasted, about 2 minutes. Transfer to a bowl and cover with 3 cups boiling water; let sit until soft, about 20 minutes. Drain the chiles, reserving their soaking liquid, and remove the stems and seeds. Transfer the chiles to a blender along with 1 1⁄2 cups soaking liquid; purée until smooth then set the chile purée aside.
Step 2
Return skillet to high heat and add the garlic, tomatoes, serrano chiles, and half of the onion slices. Cook, turning as needed, until the vegetables are lightly charred all over, about 8 minutes for the garlic and 12 minutes for the tomatoes, chiles, and onion. Transfer the vegetables to a bowl, and set aside. Return the skillet to high heat, and add 1 tablespoon. oil. Add the chile purée and fry, stirring constantly, until thickened to a paste, about 12 minutes. Return the paste to the blender along with the charred vegetable, stock, oregano, thyme, pepper, and bread. Purée until smooth, at least 2 minutes. Pour through a fine strainer into skillet, then return the skillet to medium-high heat. Bring the sauce to a boil, reduce heat to medium-low, and cook until slightly reduced, about 6 minutes. Stir in the brown sugar and lime juice, season with salt, and reduce the temperature to keep warm in the skillet.
Step 3
Heat the remaining oil in a second 12" skillet over medium-high heat. Working in batches, grasp the tortillas with tongs and fry in oil until pliable, about 15–20 seconds. Transfer the tortillas to the skillet of sauce, and turn twice to coat, then place on a work surface. Divide the chicken, cotija cheese, and minced onion among tortillas, then roll each tortilla around chicken to form tight rolls. To serve, transfer enchiladas to a large serving platter. Top with some of the remaining sauce, and sprinkle with more cheese, the remaining onion slices, and cilantro.