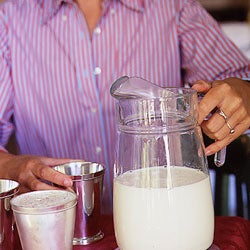 This slushy delight makes a sweet alternative to eggnog during the holidays, though it's delicious in warmer weather, too.
Milk Punch
Don't let the innocent-sounding name fool you—this tasty concoction gets a solid kick from bourbon.
Ingredients
7 cups whole milk
1 cup half and half
1 1⁄2 cups bourbon
2 cups powdered sugar
2 tbsp. vanilla extract
Instructions
Combine all ingredients in a large glass pitcher, then chill in freezer for about 1 hour, or until mixture turns slushy.
To serve, pour into chilled julep cups, and dust with freshly grated nutmeg.