Mixed Green Salad with Sichuan Peppercorns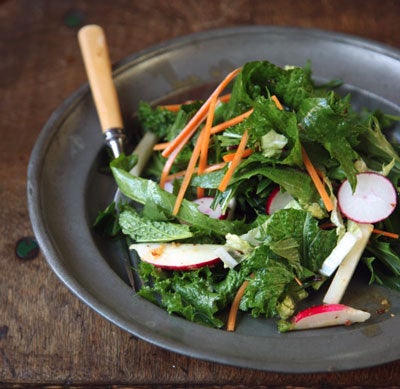 This boldly flavored and refreshing late-summer salad is based on one served at Chase's Daily in Belfast, Maine.
Yield: serves 4
Ingredients
1 1⁄2 tbsp. finely chopped ginger
1 tbsp. tamari
1 tbsp. rice vinegar
2 tbsp. Asian sesame oil
2 tbsp. extra-virgin olive oil
2 tbsp. fresh orange juice
1 tsp. chile oil
1 tsp. sichuan peppercorns
6 cups loosely packed mixed Asian salad greens, like mizuna and tatsoi
3 cups thinly sliced napa cabbage
4 small red radishes, thinly sliced crosswise
3 radishes, quartered lengthwise
1⁄2 medium carrot, julienned
1 kohlrabi, cut into matchsticks
Thai basil leaves, for garnish
Cilantro leaves, for garnish
Mint leaves, for garnish
Instructions
Combine the first seven ingredients in a small bowl.
Heat an 8″ skillet over medium heat. Add the peppercorns and cook, swirling the pan constantly, until the peppercorns are toasted and fragrant, about 1 minute. Transfer peppercorns to a spice grinder and grind into a fine powder. Whisk ground peppercorns into dressing.
In a large bowl combine greens, cabbage, and vegetables and toss with the dressing. Serve the salad garnished with basil, cilantro, and mint.