Mrs. Apple's Creamed Corn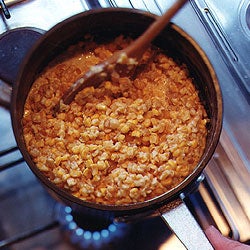 Well-known author and food and wine expert R.W. Apple Jr. shared this old family recipe with us. It is based on dried sweet corn, a Pennsylvania Dutch staple that's rarely seen outside the area. The dried corn lends this dish a firmer texture and a nutty taste.
Yield: serves 6
Ingredients
4 cups (1 lb.) dried corn
4 cups milk
3 cups heavy cream
3 tsp. sugar
3 tsp. salt
4 tbsp. butter
Salt and freshly ground black pepper
Instructions
Place dried corn in a large bowl and cover with milk and heavy cream. Cover with plastic wrap and refrigerate overnight.
Transfer corn mixture to a large saucepan. Add sugar, salt, and butter. Bring to a boil, stirring frequently, over medium-high heat, then reduce heat to low and simmer, stirring occasionally, for about 30 minutes. Adjust seasoning with salt and freshly ground black pepper, and serve.