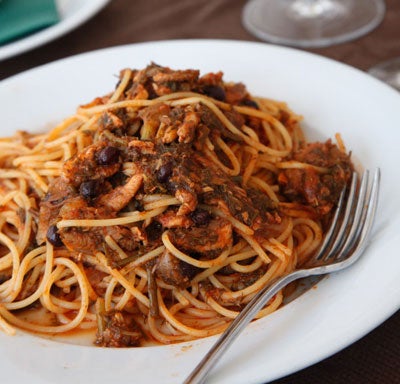 The recipe for this classic dish flavored with saffron and sardines is based on one in The Heart of Sicily by Anna Tasca Lanza (Clarkson Potter, 1993). This recipe appeared in our March 2011 issue as a part of our special feature, Soul of Sicily
Pasta with Sardines
The recipe for this classic dish flavored with saffron and sardines is based on one in The Heart of Sicily by Anna Tasca Lanza (Clarkson Potter, 1993).
Ingredients
1 1⁄2 lb. cleaned fresh sardine filets (about 50)
Semolina flour, for dredging
1 cup olive oil
2 medium fennel bulbs, finely chopped, fronds reserved
2 medium yellow onions, finely chopped
3 tbsp. tomato paste
6 oil-packed anchovy filets, drained and finely chopped
1 cup tomato sauce
3 tbsp. dried currants
3 tbsp. pine nuts
1 tsp. freshly grated nutmeg
1⁄4 tsp. saffron
Kosher salt and freshly ground black pepper, to taste
1 lb. spaghetti
Instructions
Heat 1⁄4 cup olive oil in a 10″ skillet over medium-high heat. Toss 6 sardine filets in semolina to coat, shaking off excess, and then fry in oil until golden brown, about 4 minutes. Transfer to paper towels to drain, and then roughly chop and set aside. Heat remaining oil in a 12″ skillet over medium-high heat. Add fennel and onions, and cook, stirring occasionally, until caramelized, about 20 minutes. Roughly chop and add remaining sardines along with the tomato paste and anchovies, and cook, stirring often, until broken down and melted into the sauce, about 5 minutes. Add tomato sauce, currants, pine nuts, nutmeg, saffron, and salt and pepper; reduce heat to medium-low and cook, stirring occasionally, until thickened, about 20 minutes.
Bring a large pot of salted water to a boil and add pasta; cook until al dente, 7–8 minutes. Drain and transfer pasta to sauce along with fennel fronds and toss until evenly coated; top with reserved fried sardines and serve immediately.