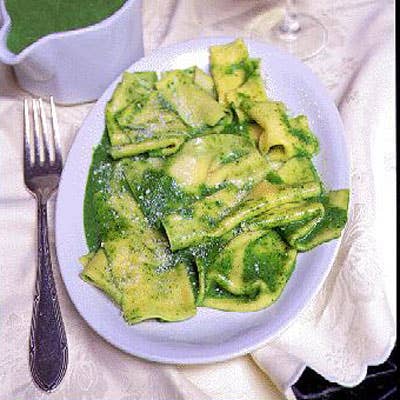 Recipes
"Silk Handkerchief" Pasta with Pesto (Mandilli de Saea al Pesto Genovese)
Mandilli de saea (the name is Genoese for "silk handkerchiefs") are delicate, handkerchief-size sheets of pasta, typically tossed with pesto. Traditionalists might object, but Gianni Belforte, like other modern chefs, makes pesto in a food processor.
The pasta squares called mandilli de saea, Genoese for "silk handkerchiefs" (for their size and thinness), are large, paper-thin egg-dough sheets that drape beautifully in the bowl, almost always dressed with pesto. The result is a kind of purity of pasta—certainly less complex than some other Genoese dishes, but with an elegance and grace not ordinarily associated with a plate of noodles. Like other Genoese set pieces, it seems wonderfully anachronistic—deliciously edible link with a fabled past.
3 1/2 cups flour
1/2 tsp. salt
5 eggs
2 tbsp. extra-virgin olive oil
1 clove garlic, peeled and chopped
3 tbsp. pine nuts
Salt
2 cups packed fresh basil leaves, preferably small and young
1/2 cup extra-virgin olive oil
1/4 cup freshly grated pecorino sardo
1/4 cup freshly grated parmigiano-reggiano
For the pasta, sift flour and salt torgether onto a large work surface. Make a well in the center of the flour, add eggs, one at a time, working into flour with your hands. Continue kneading until dough is smooth and elastic, about 10 minutes.

Divide dough into 4 balls. Roll each out as thinly as possible—either on a lightly floured work surace using a rolling pin or with a pasta machine. Cut each sheet into 12 to 14 4" squares. Set squares aside, layered between clean dish towels.

Bring a large pot of salted water to a boil over high heat. Meanwhile, pulse garlic and pine nuts with salt in a food processor until finely ground. Add basil and pulse while slowly drizzling in oil. Add pecorino sardo and parmigiano-reggiano and puree, frequently scraping sides with a spatula, until pesto is smooth and creamy. Set aside.

To the boiling water, add 1 tbsp. oil and half the pasta, and cook until pasta is tender, 3-4 minutes. Remove carefully with a slotted spoon, drain in a colander, and toss with half the remaining oil. Repeat with remaining pasta. Dilute pesto with 1/2 cup of pasta cooking water and puree until creamy, about 1 minute. Gently toss hot pasta with pesto and serve immediately.
Variation—Instead of a food processor, use a mortar and pestle to crush garlic with pine nuts. When smooth, add basil a bit at a time. Grind into a coarse paste, add a little salt, and stir in cheese. Drizzle in oil and continue to grind until smooth. Continue as in step 4.