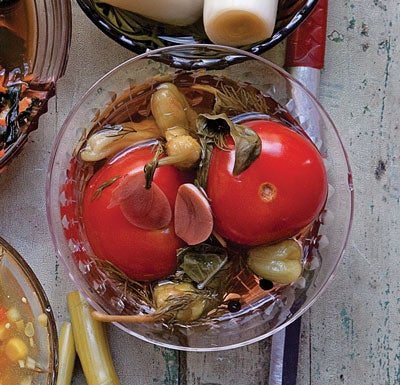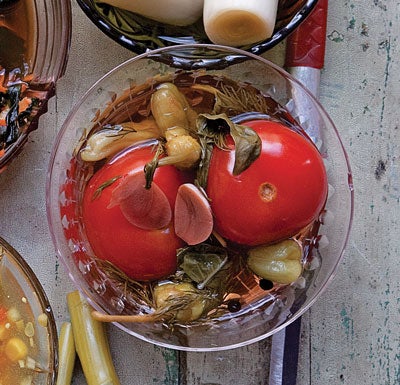 Whole pickled tomatoes are a perennial favorite in Russia.
Yield: makes about 2 quarts
Ingredients
1 tsp. black peppercorns
6–8 small vine-ripened tomatoes
8 small jarred pepperoncini
4 small fresh bay leaves
4 sprigs fresh dill, stemmed
2 cloves garlic, thinly sliced
1 cup red wine vinegar
2 1⁄2 tbsp. kosher salt
1 tbsp. sugar
Instructions
Combine peppercorns, tomatoes, pepperoncini, bay leaves, dill, and garlic in a 2-qt. glass jar with a tight-fitting lid. Bring vinegar, salt, sugar, and 1 1⁄4 cups water to a boil in a saucepan; stir until salt and sugar dissolve. Pour vinegar mixture over tomatoes.
Seal jar; let cool. Refrigerate for up to 2 weeks.