Recipes
Pohp Batalu Jo Pulao (Spiced Rice with Dates & Fried Potatoes)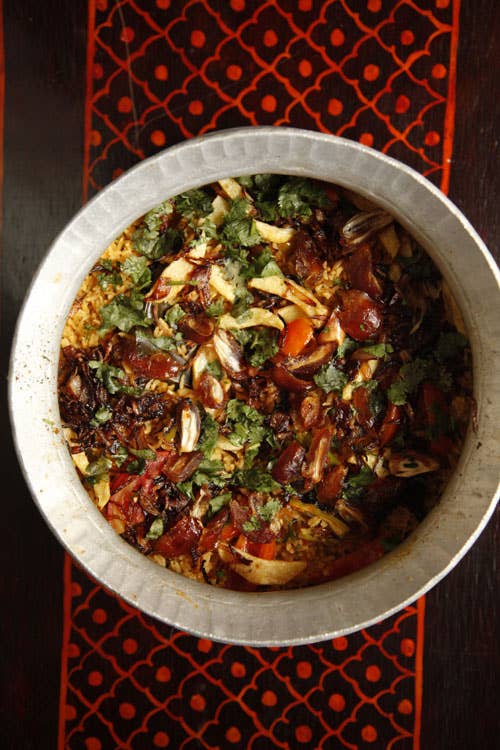 The recipe for this festive rice dish garnished with dates, potatoes, and onions is from Sindhi cook Kamla Sabhani.
Ingredients
6 cloves garlic, peeled
1 serrano chile, stemmed
1 (2") piece ginger, peeled and thinly sliced
1 1⁄4 cups canola oil
2 large white onions (1 minced, 1 thinly sliced)
4 black peppercorns
2 bay leaves
2 cloves
1 whole black cardamom pod
1 stick cinnamon
Kosher salt, to taste
4 plum tomatoes, minced
1 tsp. ground coriander
1⁄4 tsp. ground turmeric
3⁄4 cup basmati rice, rinsed
1⁄2 cup frozen green peas
1 medium russet potato, cut into ½" matchsticks
10 seedless dates, thinly sliced
1⁄4 cup finely chopped cilantro
Instructions
Step 1
Purée garlic, chile, ginger, and 3 tbsp. water until smooth; set aside. Heat 3 tbsp. oil in a 6-qt. pan over medium-high heat. Add minced onions; cook, until golden, 7–9 minutes. Add garlic purée; cook 2-3 minutes. Add peppercorns, bay leaves, cloves, cardamom, cinnamon, and salt; cook 1 minute. Add half the tomatoes, plus coriander and turmeric; cook 2-3 minutes. Add rice, peas, and 1½ cups water; boil. Reduce heat to low; cook, covered, until rice is tender, 10-12 minutes.
Step 2
Bring sliced onions and oil to a simmer in a 4-qt. saucepan over medium heat; cook, stirring occasionally, until golden and crisp, 25-30 minutes. Using a slotted spoon, transfer onions to paper towels; season with salt. Add potatoes to oil; fry, until golden, 15-20 minutes. Garnish rice with remaining tomatoes, plus fried onions and potatoes. Sprinkle with dates and cilantro.