Porterhouse With Lemon-Thyme Butter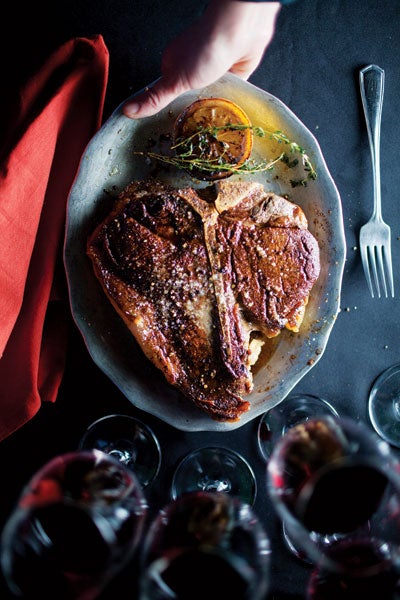 A thyme-infused butter enhances the flavor of this skillet-seared steak, inspired by one at Prime Steakhouse, at the Bellagio in Las Vegas. Pair it with homemade Black Pepper-Horseradish Zabaglione or Miso-Mustard Butter sauce. This recipe first appeared in our April 2012 issue along with Max Jacobson's story Dining Like a Rhinestone Cowboy.
Yield: serves 2
Ingredients
1 (3-lb), 2″-thick porterhouse steak, at room temperature
Kosher salt and freshly ground black pepper, to taste
2 tbsp. canola oil
4 tbsp. unsalted butter
6 sprigs thyme
1 lemon, halved crosswise
Instructions
Season steak heavily on both sides with salt and pepper; let sit for 30 minutes. Heat oven to 500°. Heat a 12″ cast-iron skillet over high heat until it begins to smoke. Add oil and steak; cook until lightly charred on one side, about 5 minutes. Flip steak, and transfer skillet to oven; cook until medium-rare and an instant-read thermometer reads 135°, about 10 minutes. Transfer steak to a platter, and let rest for 10 minutes.
Meanwhile, pour off pan drippings and return skillet to stove over high heat. Add butter and then thyme and lemon halves, cut sides down; cook until golden brown, about 4 minutes. Remove from heat. Slice steak around the bone. Transfer to plates, and drizzle with butter from skillet. Serve with the lemon for drizzling.