Potato and Spring Onion Soup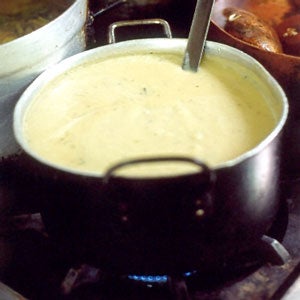 Though it may seem French inspired, this soup is based on two of the most basic vegetables of the traditional Irish diet and recalls the vegetable dish called champ—potatoes mashed with greens (often scallions).
Yield: serves 4-6
Ingredients
2 bunches spring onions (scallions), trimmed
4 tbsp. sunflower or vegetable oil
1 medium yellow onion, peeled and coarsely chopped
3 russet potatoes, peeled and quartered
4 cups chicken or vegetable stock
Salt and freshly ground black pepper
Instructions
Cut scallions in half crosswise, dividing white and green parts. Coarsely chop white parts and set aside. Finely chop green parts and set aside separately.
Heat oil in a medium pot over medium heat. Add onions and chopped white parts of scallions and cook, stirring often with a wooden spoon, until soft, 8-10 minutes. Add potatoes and stock and season to taste with salt and pepper. Increase heat to medium-high and bring just to a boil. Reduce heat to medium-low and simmer, stirring occasionally, until potatoes are soft, 30-35 minutes.
Allow vegetables and stock to cool slightly; then, working in batches, puree them together in the jar of a blender or the work bowl of a food processor until very smooth. Return puree to pot and cook over medium heat until hot. Adjust seasonings. Garnish soup with reserved scallion greens.