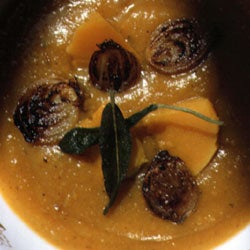 For soup, almost any variety of pumpkin will do just fine—except for the common field pumpkin, or jack-o-lantern. The best ones, however, are small, sweet pumpkins like the green-and-white delicata. Butternut squash may be used as a substitute.
Pumpkin Soup with Sage
No other fruit or vegetable symbolizes autumn's abundance like pumpkin.
Ingredients
1 small (about 5 lbs.) pie pumpkin
4 tbsp. olive oil
6 tbsp. unsalted butter
2 medium onions, finely chopped
2 cloves garlic, peeled and minced
4-6 cups chicken stock
Salt and freshly ground black pepper
9 shallots, peeled and halved lengthwise
18 fresh sage leaves
2 cups vegetable oil
Instructions
Preheat oven to 350°. Quarter and seed pumpkin. Rub flesh with olive oil, and bake on a baking sheet for 30 minutes. Set aside to cool.
Melt 4 tbsp. of the butter in a heavy stockpot over medium heat. Cook onions and garlic in butter until translucent about 20 minutes. Meanwhile, scrape flesh from pumpkin and add to onions. Cook for about 5 minutes.
Add 4 cups chicken stock to pot and simmer for 30 minutes. Purée soup in a food processor until smooth, then return to pot.
Melt remaining 2 tbsp. butter in a small pan over medium heat, and cook shallots until golden and tender, about 15 minutes.
Fry sage leaves in vegetable oil until crisp. Drain on paper towels, then garnish each serving with 3 shallot halves and 3 sage leaves.