Recipes
Arugula Salad with Roasted Butternut Squash, Cranberries, and Candied Pecans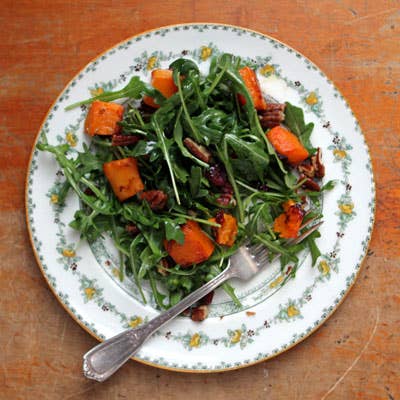 Ingredients
1 1⁄2 cups butternut squash, peeled and cut into ½-inch cubes
5 tbsp. olive oil, divided
Sea salt
2 tbsp. butter
2 tbsp. brown sugar
1⁄2 cup pecans
2 tbsp. red wine vinegar
2 tsp. honey
Freshly ground black pepper
6 cups arugula leaves
1⁄2 cup dried cranberries
Instructions
Step 1
Preheat oven to 400 degrees. In a bowl combine squash cubes, 1 tablespoon olive oil and sea salt to taste, mixing thoroughly to coat squash with oil. Transfer squash to a rimmed baking sheet and roast for 20-25 minutes, until soft. Remove from oven and let cool.
Step 2
Meanwhile, melt butter in a saucepan over medium heat. Once bubbling, stir in brown sugar, followed by pecans. Sauté pecans, stirring frequently, until coated with mixture, 7-10 minutes. Remove from heat and allow to cool completely.
Step 3
Whisk vinegar, honey, remaining 4 tablespoons olive oil, salt and pepper to taste in a small bowl. Assemble salad: Combine arugula, squash, pecans and cranberries in a large bowl, drizzle dressing over and gently toss.