Roasted Fresh Ham with Orange Glaze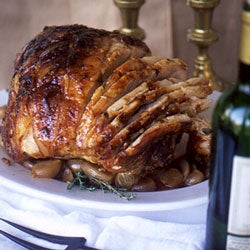 Fresh uncured ham makes a wonderful holiday roast: It's a good, big cut for a party, tender and marbled but not fatty. Oranges, with their clean, citrusy spark, are an excellent foil for the pork's rich taste.
Roasted Fresh Ham with Orange Glaze
Oranges, with their clean, citrusy spark, are an excellent foil for the ham's rich taste.
FOR THE HAM
1 (15–20-lb.) fresh ham on the bone
6-7 cloves garlic, peeled and sliced
Salt and freshly ground black pepper
4 lb. shallots, peeled
2 cups freshly squeezed orange juice
FOR THE GLAZE
1 cup orange marmalade
1⁄4 cup freshly squeezed orange juice
1 tbsp. dijon mustard
Instructions
For the ham: Place oven rack in lower third of oven, then preheat oven to 325°. Put ham in a large heavy roasting pan. Trim off tough outer skin, then score the fat in a crosshatch pattern. Make small incisions all over the ham with the tip of a paring knife, inserting a piece of sliced garlic in each slit as you go. Rub ham with salt and pepper to taste. Roast in oven for 2 hours, then remove ham and set aside.
For the glaze: Combine orange marmalade, orange juice, and mustard in a small saucepan. Simmer over medium heat for 10 minutes, stirring often. Remove from heat and set aside.
Brush entire surface of ham generously with orange glaze. Scatter peeled shallots around ham in bottom of roasting pan, add orange juice, then return to oven to roast. Continue to baste ham every 30 minutes. Roast ham until browned and internal temperature reaches 170° on a meat thermometer in thickest part, 3–4 hours more.
Transfer ham to a cutting board or platter, cover loosely with foil, and allow to rest for 20 minutes. Carve slices perpendicular to the bone and serve with roasted shallots and pan juices.