Recipes
Pierna de Puerco Asada (Roasted Fresh Ham with Orange Glaze)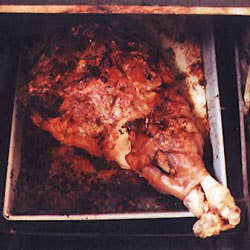 Fresh, unsmoked ham makes a delicious roast.
Ingredients
1 (15–18-lb.) fresh ham on the bone
Juice of 12 bitter oranges or 8 sweet oranges and 4 limes
1 head garlic, cloves separated, peeled, and minced
Pinch dried oregano
Salt
Instructions
Step 1
Trim off ham's outer skin and score fat about ½" deep in a diamond pattern. Put ham in a roasting pan and set aside. Mix juice, garlic, and oregano in a bowl and season to taste with salt. Reserving ½ cup, pour juice mixture over ham, rubbing garlic into scored fat. Cover with plastic wrap and refrigerate overnight.
Step 2
Preheat oven to 325°. Remove plastic wrap, then bake ham, basting occasionally with reserved juice mixture, until internal temperature reaches 170° on a meat thermometer, about 5 hours. Allow to rest 20 minutes before carving.