Russian Pickled Watermelon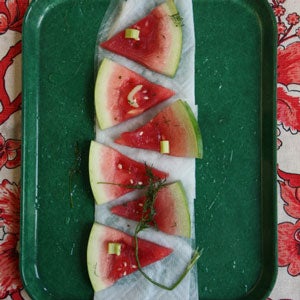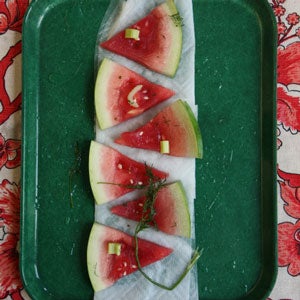 The recipe for these savory pickles is based on one that appears in Pickled: Preserving a World of Tastes and Traditions by Lucy Norris (Stewart, Tabori & Chang, 2003); it was contributed by Sophia Vinokurau, the owner of M & I International Foods in Brooklyn, New York.
Russian Pickled Watermelon
A great use for unintentionally underripe watermelons, their juicy sweetness is perfectly complemented here by a garlicky, cayenne-spiced brine.
Ingredients
1⁄4 cup kosher salt
1⁄4 cup sugar
1 tbsp. pickling spices
3⁄4 tsp. cayenne
1⁄2 tsp. distilled white vinegar
8 cloves peeled garlic, smashed
5 ribs celery, coarsely chopped
1⁄2 bunch dill, roots trimmed
2 lb. watermelon, rind left on, cut into 1″-thick wedges
Instructions
In a large nonreactive bowl or pot, stir together salt, sugar, pickling spices, cayenne, vinegar, garlic, celery, dill, and 8 cups water until salt and sugar dissolve. Submerge the watermelon wedges. Cover with plastic wrap and refrigerate for at least 1 week and up to 2 weeks before serving.