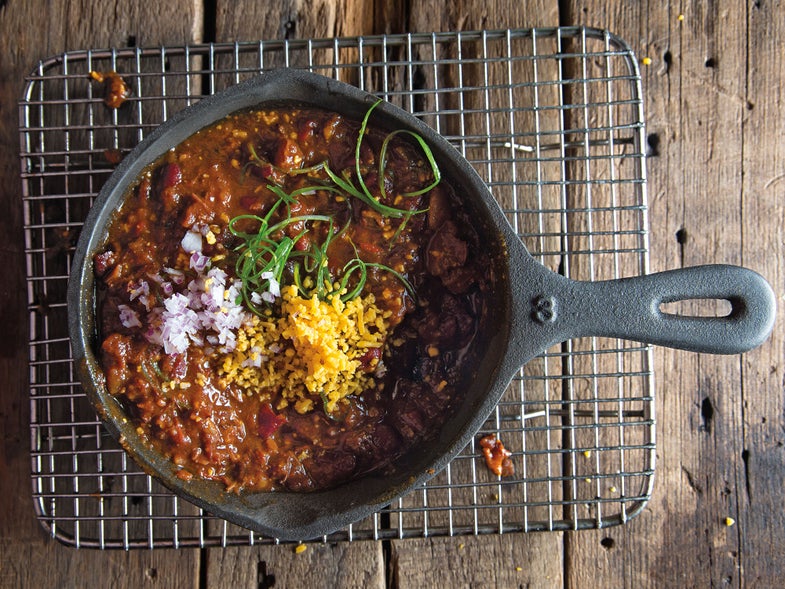 Pulled pork stands in for the burnt ends of barbecued brisket in this robust Kansas City-style bean chili inspired by one from the restaurant Rye KC in Leawood, Kansas. This recipe first appeared in our August/September 2013 Heartland issue with the story Mom and Populist.
Find this recipe in our cookbook, SAVEUR: Soups and Stews
Kansas City-Style Chili
Pulled pork, rubbed with barbecue spices and oven-roasted, is the meaty component of this robust Kansas City concoction.
Ingredients
1 lb. boneless pork shoulder
Kosher salt and freshly ground black pepper, to taste
1⁄3 cup light brown sugar
2 tsp. garlic powder
1 tsp. ground cumin
2 (12-oz.) bottles pale ale-style beer
6 oz. sliced bacon, finely chopped
10 cloves garlic, finely chopped
1 jalapeño pepper, seeded and finely chopped
1 large Vidalia onion, finely chopped
1 large red bell pepper, finely chopped
1⁄4 cup tomato paste
3 tbsp. dark red chile powder
1⁄2 tbsp. Aleppo pepper
1 tsp. crushed red chile flakes
2 bay leaves
2 cups chicken stock
2 (28-oz.) cans whole peeled tomatoes, crushed
2 (15.5-oz.) cans dark red kidney beans, drained
2 tbsp. hot sauce
2 tbsp. Worcestershire sauce
Sliced scallions, for garnish
Cornbread, for serving (optional)
Instructions
Heat oven to 500°. Place pork in a 9″ x 13″ baking dish and season with salt and pepper. Rub with brown sugar, garlic powder, and cumin. Bake until browned, 30–35 minutes. Reduce heat to 300°. Add 1 bottle of beer and cover tightly with aluminum foil; bake until pork is very tender, about 2 hours. Let meat rest for 20 minutes, then shred.
Heat bacon in an 8-qt. saucepan over medium-high heat. Cook until fat is rendered, 8–10 minutes. Add garlic, jalapeño, onion, and bell pepper; cook until soft, 10–12 minutes. Add tomato paste, chile powder, Aleppo pepper, chile flakes, and bay leaves; cook until lightly caramelized, about 3 minutes. Add remaining bottle of beer, plus stock, tomatoes, and beans; boil. Reduce heat to medium-low; cook, covered slightly, until beans are very tender and chili is slightly thick, 1 1⁄2–2 hours. Stir in shredded pork, plus hot sauce and Worcestershire. Garnish with scallions and crumble cornbread over top, if you like.