Sautéed Sea Scallops with Caramelized Apples and Chicken Livers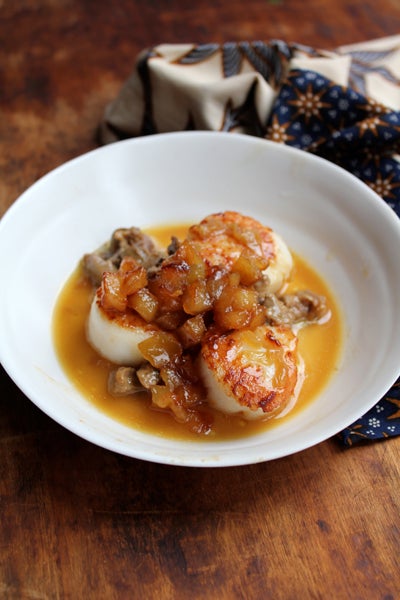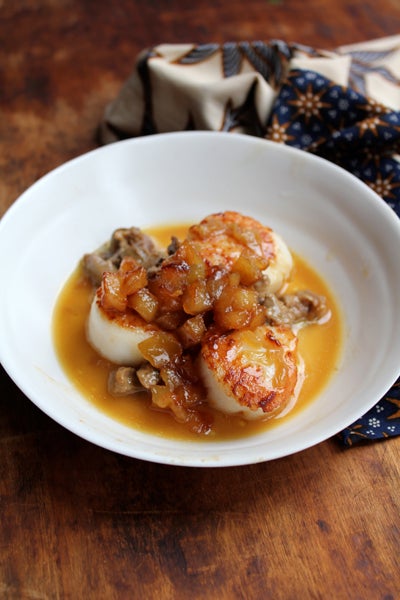 This elegant dish, which marries the light sweetness of scallops with the deep, rich flavors of earthy chicken liver and caramelized apples, comes from by Anita Lo, chef at New York's Annisa restaurant. The recipe is based on a similar one for skate that appears in her cookbook Cooking Without Borders
, and appears with her SAVEUR.com story Battling the Skate.
Sautéed Sea Scallops with Caramelized Apples and Chicken Livers
This elegant dish from Anita Lo marries the light sweetness of scallops with the deep, rich flavors of earthy chicken liver and caramelized apples.
For the Apple Compote and Demi-glace
6 tbsp. butter, divided
1 large onion, cut into small dice
3 tbsp. brandy
3⁄4 cup chicken stock
1⁄2 tsp. salt
Freshly-ground black pepper
2 1⁄2 tbsp. vegetable oil
1 1⁄2 cups finely diced Granny Smith apples
2 1⁄2 tbsp. sugar
1 pinch salt
For the Scallops and Chicken Livers
4 tbsp. vegetable oil
1 tbsp. butter
6 oz. chicken livers, finely diced
Wondra flour, for dredging
1 1⁄2 lb. large sea scallops (about 20), cleaned
Kosher salt and freshly-ground black pepper
2 tbsp. lemon juice, divided
1 tbsp. chopped chives
Instructions
Make the sauce: Heat a saucepan over high heat. Add 3 tbsp. butter and swirl to coat the pan; add the onions and reduce heat to medium. Cook, stirring occasionally, until onions are golden brown. Add the brandy and chicken stock and bring to a boil. Reduce the liquid by 1⁄3, then swirl in 1 1⁄2 tbsp. butter. Season with salt and pepper and keep warm.
Make the apple compote: Heat a sauté pan over high heat and add the oil. When the oil is just smoking, add 1 1⁄2 tbsp. butter and the apples and briefly sauté. Add the sugar and salt and cook until caramelized, about 5 minutes. Remove to a warm plate.
Make the chicken livers: Heat a sauté pan over high heat; add 1 tbsp. oil and butter and swirl to coat the pan. Season the chicken livers with salt and pepper and dredge lightly with the Wondra, using a fork so that the pieces are dredged individually rather than in clumps. Quickly sauté the livers over high heat until lightly browned and still pink in the center, about 2 minutes. Remove from the pan and keep warm.
Heat two large sauté pans over high heat Add 1 ½ tbsp oil to each. Season the scallops on both sides with salt and pepper and add them to the pans when the oil is just smoking. Lower heat to medium-high and cook scallops until they are golden brown. Flip and finish cooking on the other side, drizzling each pan with 1 tbsp. lemon juice to finish.
To serve, divide the scallops onto four plates. Surround each with the sauce and top with the chicken livers, apples, and a pinch of chives.