Scrambled Eggs with Truffles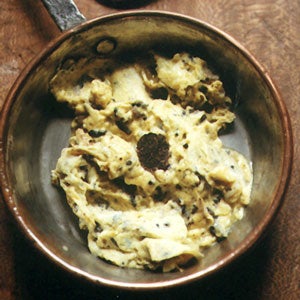 The Rocchias sometimes trade a truffle to a neighbor for a few dozen fresh eggs.
Scrambled Eggs with Truffles
The text to display in the title bar of a visitor's web browser when they view this page. This meta tag may also be used as the title of the page when a visitor bookmarks or favorites this page.
Ingredients
8 eggs (in shell)
1 cleaned medium fresh black truffle
Salt and freshly ground black pepper
2 extra-virgin olive oil
Instructions
Put eggs (in shell) and black truffle into a large bowl, cover with plastic wrap, and refrigerate for at least 24 hours to let truffle perfume eggs.
Crack eggs into a bowl, lightly beat, and season to taste with salt and pepper. Using a truffle slicer, mandoline, or sharp paring knife, shave 4 thin slices from truffle; set aside.
Grate the remaining truffle on large holes of a box grater, then stir into eggs. Heat olive oil or butter in a large skillet over medium heat. Add eggs and cook, stirring often, until just set, 2-3 minutes. Garnish with reserved truffle slices.