Sesame Oil Chicken (Ma You Ji)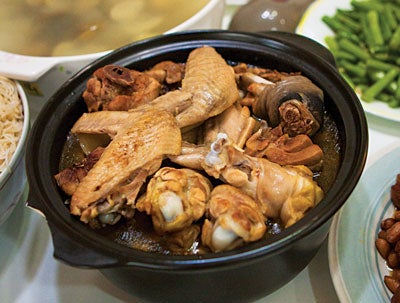 Mild and faintly sweet, Chinese rice wine is the standard cooking liquid and sauce for this staple Taiwanese dish.
Yield: serves 4
Ingredients
1⁄3 cup black Asian sesame oil
4 (1⁄2″) pieces ginger, peeled and smashed
1 (3–4 lb.) chicken, cut into 16 pieces
2 cups Chinese cooking wine, usually labeled michiu
Kosher salt, to taste
Cooked rice or cooked somen noodles, for serving
Instructions
Heat oil in 10″ skillet or wok over high heat. Add ginger and cook, stirring often, until fragrant, about 1 minute. Add chicken and toss to coat with the oil; cook, stirring occasionally, until lightly browned, about 7 minutes. Using tongs, remove breast meat only from wok and transfer to a plate; set aside.
Add wine; bring to a boil. Reduce heat to medium-low and simmer, covered, for 30 minutes, stirring occasionally. Add reserved breast meat; cook 15 minutes more. Season with salt; transfer chicken and pan juices to a serving bowl; serve with rice or noodles.