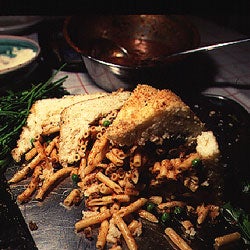 Sicilian Rice Timbale
The recipe for this tumala is a lighter version of its predecessor, an ancient casserole of layered meats, cheese, egg, and rice.
Ingredients
2 cups arborio rice
Salt
2 1⁄2 cups grated pecorino romano
1⁄2 lb. ziti or penne rigate
2 cups warm Sicilian Tomato-Meat Sauce or other tomato sauce
1⁄2 cup fresh shelled or frozen peas
1⁄2 cup bread crumbs
Freshly ground black pepper
3 eggs
Instructions
Cook rice in a large pot of boiling salted water until al dente, about 15 minutes. Drain, refresh in cold water, then transfer to a large bowl. Allow rice to cool completely, then stir in 2 of the eggs and 1 cup of pecorino romano. Cover with a dish towel and set aside in refrigerator for at least 6 hours.
Preheat oven to 400°. Cook pasta in a large pot of boiling salted water until not quite tender, about 8 minutes. Drain, transfer to a large bowl, and toss with 1 cup of the tomato sauce. (It is important that sauce be thick or pasta mixture will be too watery and tumala will fall apart when unmolded.) Add peas and 1⁄2 cup of the cheese, then mix gently with a wooden spoon and set aside to cool.
To assemble the tumala, coat a well-oiled 2-quart 8″ ovenproof bowl with bread crumbs. Moisten hands so that rice and pasta won't stick to them. Completely line bowl with rice, forming an even rice wall about 1⁄2″ thick. Gently pack pasta into bowl, then top with remaining rice, pressing it firmly in place. Lightly beat remaining egg, then brush over top of tumala.
Bake until tumala is golden, about 1 hour. Allow to cool for 10 minutes, then loosen sides with a knife. Turn out onto a large platter. (If necessary, tap bottom of bowl to loosen.) Slice into wedges at the table and serve topped with additional sauce, grated cheese, and pepper.