Recipes
Spanakopita (Greek Spinach Pie)
Dress up this classic Mediterranean appetizer with long-grain rice and fresh herbs.
Serves

serves 8

Cook

2 hours 30 minutes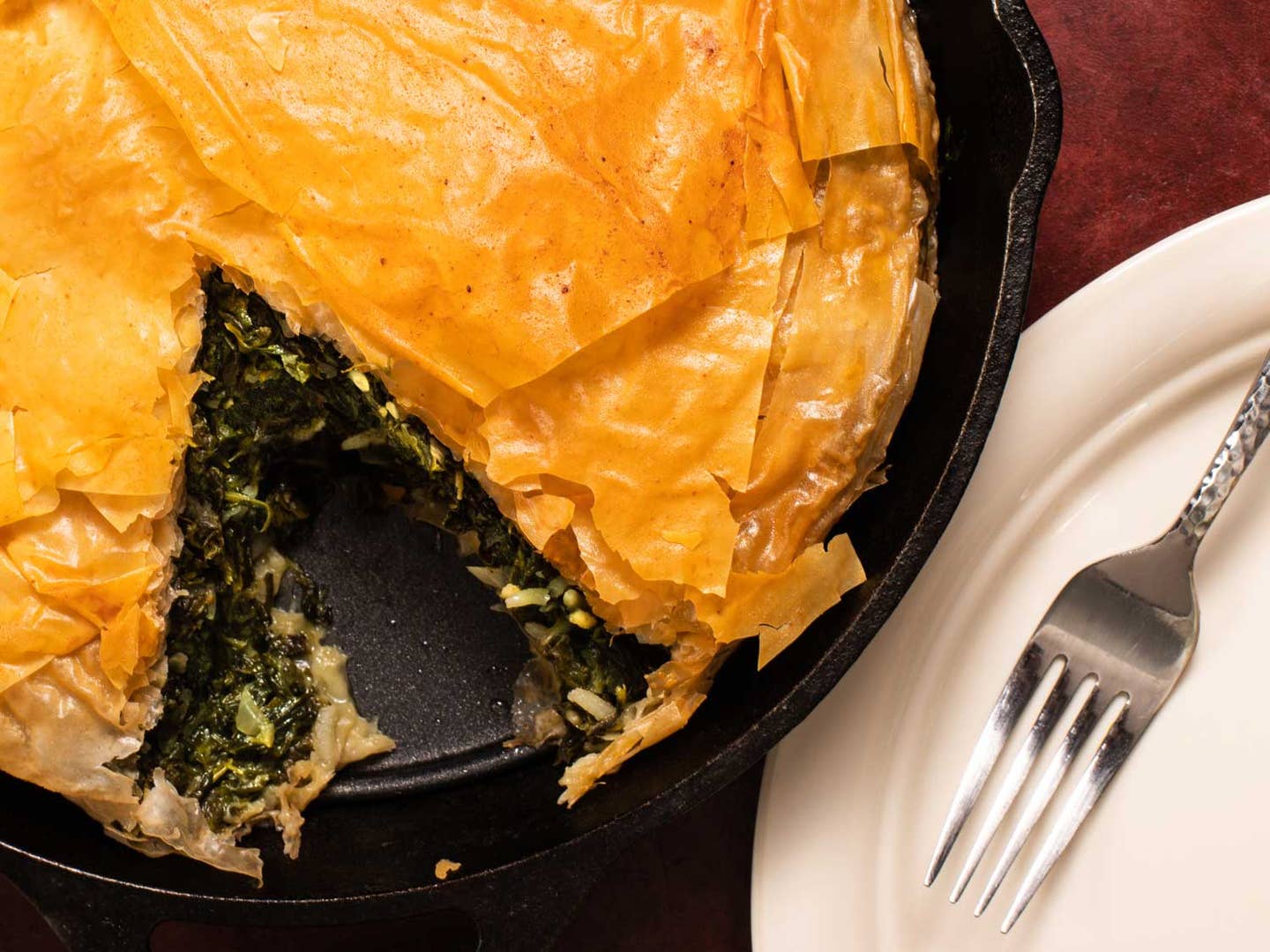 In springtime, the hills of Greece are covered with wild greens and herbs, including fennel, sorrel, lemon balm, poppy leaves, and mint, which are gathered and baked into pies called spanakopita. Diane Kochilas, author of The Greek Vegetarian, shared her family recipe with us. This variation adds rice, and to the standard mixed greens, add any herbs of your liking. Check out all of our Greek recipes here.
Ingredients
6 lb. fresh spinach, washed in several changes of water and coarsely chopped
4 tbsp. extra-virgin olive oil
2 large yellow onions, finely chopped
2 bunches scallions, trimmed and thinly sliced
1⁄2 cups finely chopped fresh dill
1⁄2 cups finely chopped fresh parsley
1⁄4 lb. feta, crumbled
1⁄4 cups long-grain rice
Kosher salt and freshly ground black pepper
1⁄2 lb. frozen phyllo dough, thawed
6 tbsp. unsalted butter, melted, plus more for greasing
Instructions
Step 1
To a large cast-iron skillet set over medium-high heat, add 2 tablespoons of the oil and the spinach, working in batches if necessary. Cover and cook, stirring occasionally, until wilted, 5–8 minutes. Transfer to a large bowl.
Step 2
To the empty skillet, add the remaining oil and turn the heat to medium-low. Add the onions and scallions and cook, stirring occasionally, until soft, 15–20 minutes. Scrape the cooked onions into the bowl with the spinach, then add the dill, parsley, feta, rice, and salt and black pepper to taste. Stir to combine. When the skillet is cool enough to handle, wipe it out and place it on the counter.
Step 3
Position a rack in the center of the oven and preheat to 350°F. Working quickly so that the pastry doesn't dry out, brush the top sheet of phyllo with melted butter and line the bottom of the skillet with it. Repeat with 9 more sheets, fanning the edges out toward the edge of the pan and ensuring the bottom is fully covered (let any excess dough creep up the sides). Spoon the filling into the pan and spread evenly to fill the pan. Drape the remaining layers of phyllo over the filling one at a time, brushing each with butter. Brush the top layer with butter, then neatly fold the overhanging phyllo over the top of the pie. Brush all over with any remaining butter. Bake until golden and puffy, about 1 hour. Cool for 30 minutes before serving.