Spinach Salad with Hot Bacon Dressing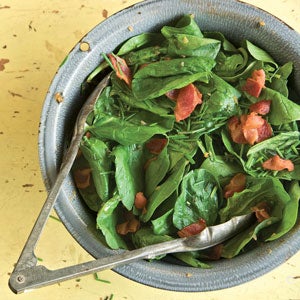 A descendent of the sauce used in classic German potato salad, a rich and flavorful bacon dressing was used by German-Americans to coat dandelion greens during the 19th century (and perhaps before). The bitter greens were eventually supplanted by spinach, creating this hearty—and classic—dinner salad.
Spinach Salad with Hot Bacon Dressing
This hot bacon dressing for spinach salad uses tart malt vinegar and shallots.
Ingredients
1 lb. spinach
6 strips bacon, roughly chopped
2 shallots, finely chopped
1⁄3 cup malt vinegar
1 tbsp. dijon mustard
2 tsp. sugar
Salt and freshly ground black pepper
1⁄2 cup fresh chives, chopped
2 tbsp. chopped fresh savory
Instructions
Wash and trim spinach; transfer to a bowl.
Cook bacon in a small pot over medium-high heat, stirring often, until crisp, 8 to 10 minutes. Using a slotted spoon, transfer bacon to a paper towel–lined plate.
Add shallots to pot with bacon fat and cook until just softened, 1 to 2 minutes. Whisk in vinegar, mustard, sugar, and salt and pepper to taste. Continue whisking until heated, about 30 seconds. Pour immediately over spinach and toss; sprinkle with crumbled bacon, 1⁄2 cup chopped fresh chives, and 2 tbsp. chopped fresh savory.