Recipes
Spotted Dick (Currant Steamed Pudding) with Custard Sauce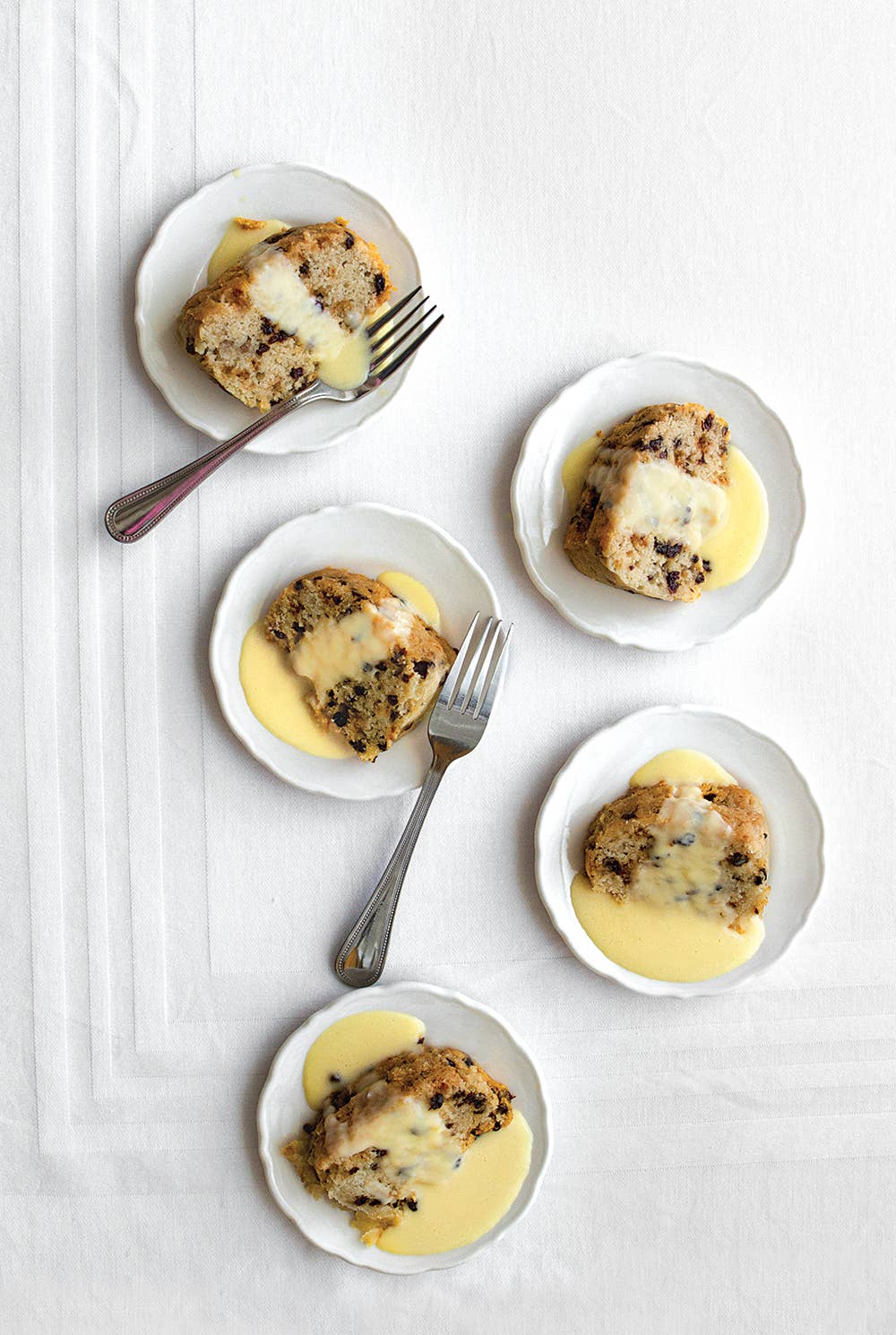 Thick dreamy custard is spooned over dense currant-laden steamed pudding in this classic English dessert. If a traditional mold isn't available, use a 2-qt. ramekin. Place a piece of parchment paper slightly larger than the ramekin over its top and tie tightly around edge of dish with kitchen twine. This recipe first appeared in our December 2013 issue along with Leaf Arbuthnot's article Old School.
Ingredients
For the Spotted Dick
3 tbsp. unsalted butter, melted, plus more for greasing
2 1⁄4 cups flour
5 oz. beef suet, chilled and grated
1 cup dried currants
1⁄2 cup sugar
1 tbsp. baking powder
2⁄3 cup heavy cream
2⁄3 cup milk
Zest of 1 lemon, plus 2 tbsp. fresh juice
For the Custard Sauce
4 eggs
3 tbsp. sugar
1 cup milk
1 1⁄2 tsp. vanilla extract
Instructions
Step 1
Make the spotted dick: Grease a 2-liter steamed pudding mold with butter; set aside. In the bowl of a stand mixer fitted with a paddle, combine flour, suet, currants, sugar, and baking powder. Add butter, cream, milk, lemon zest, and juice; mix until a thick batter forms. Pour into prepared mold and cover with lid. Bring 10 cups water to a boil in a large stockpot fitted with a pasta strainer or steamer insert. Place pudding in pot; cover pot and steam until cooked through, 1 1⁄2–2 hours. During cooking, add boiling water to pot, as needed, to ensure that water level stays 2" up the sides of the mold; let pudding cool slightly.
Step 2
Make the custard: Whisk eggs and sugar in a bowl until fluffy. Bring milk to a boil in a 2-qt. saucepan. While whisking constantly, slowly pour milk into egg mixture. Return mixture to saucepan; heat over medium heat. Cook, stirring occasionally, until sauce is very thick, about 15 minutes. Remove from heat and stir in vanilla. To serve, uncover and invert spotted dick onto a serving plate; pour sauce over the top or cut pudding into slices and serve sauce on the side.