St. Joseph's Day Fritters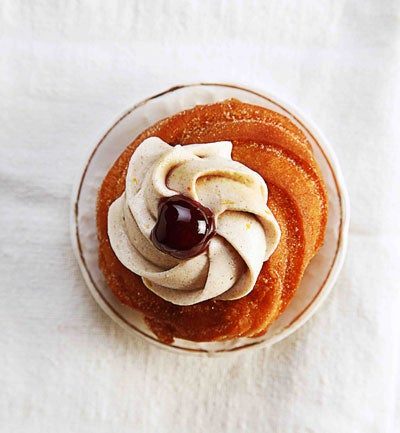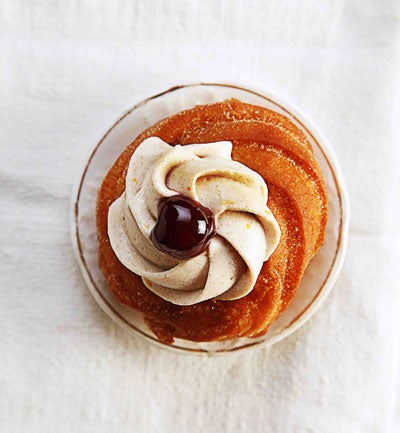 The recipe for these crunchy fritters called Zeppole di San Giuseppe, courtesy of Malgieri, are topped with a cinnamon-ricotta filling. This recipe appeared in our March 2011 issue as a part of our special feature, Soul of Sicily
St. Joseph's Day Fritters
The recipe for these crunchy fritters called Zeppole di San Giuseppe, courtesy of Malgieri, are topped with a cinnamon-ricotta filling.
For the Fritters
2 tsp. sugar plus 1 cup
1 1⁄4 cups milk
5 tbsp. unsalted butter
1 tbsp. white rum
1⁄4 tsp. kosher salt
2 cups flour
5 eggs
1 tbsp. ground cinnamon
Canola oil, for frying
Amarena cherries, halved, to garnish
For the Filling
1 lb. ricotta, drained overnight in a cheesecloth-lined strainer, or ricotta impastata
1 cup confectioners' sugar, sifted
2 tsp. vanilla extract
1 tsp. ground cinnamon
1 tsp. orange zest
Instructions
For the fritters: Bring 2 tsp. sugar, milk, butter, rum, and salt to a boil in a 4-qt. saucepan over medium-high heat. Add flour; stir vigorously with a wooden spoon until dough begins to dry, 2–3 minutes. Transfer dough to bowl of stand mixer fitted with paddle and beat on medium-high speed. Add eggs one at a time, until each is incorporated fully; dough should be smooth and hold peaks when lifted from paddle. Transfer dough to piping bag fitted with ½″ star tip, and pipe 2½″-diameter circles onto parchment paper. Using scissors, cut out paper around each fritter; set aside. In a small bowl, combine remaining sugar and cinnamon; set aside.
For the filling: Combine ricotta, sugar, vanilla, cinnamon, and orange zest in a large bowl and whisk until smooth, 2–3 minutes. Transfer to piping bag fitted with a ½″ star tip; set aside.
Pour oil into a 6-qt. Dutch oven to a depth of 2″; heat over medium-high heat until a deep-fry thermometer reads 350°. Working in batches, invert fritters into oil and baste paper with oil until it releases. Remove paper with tongs and continue frying, turning once, until puffed and light brown, 3–4 minutes. Remove fritters from oil and set on paper towels to drain briefly. Transfer to bowl of cinnamon sugar, toss to coat evenly, and then transfer to a serving plate. Pipe about 1 heaping tbsp. ricotta filling into center of each fritter and top with a cherry half; serve immediately.