Recipes
Strip Steaks with Green Peppercorn Sauce
Bring new life to the French bistro stalwart with a hint of ruby port.
Serves

serves 4

Cook

3 hours 45 minutes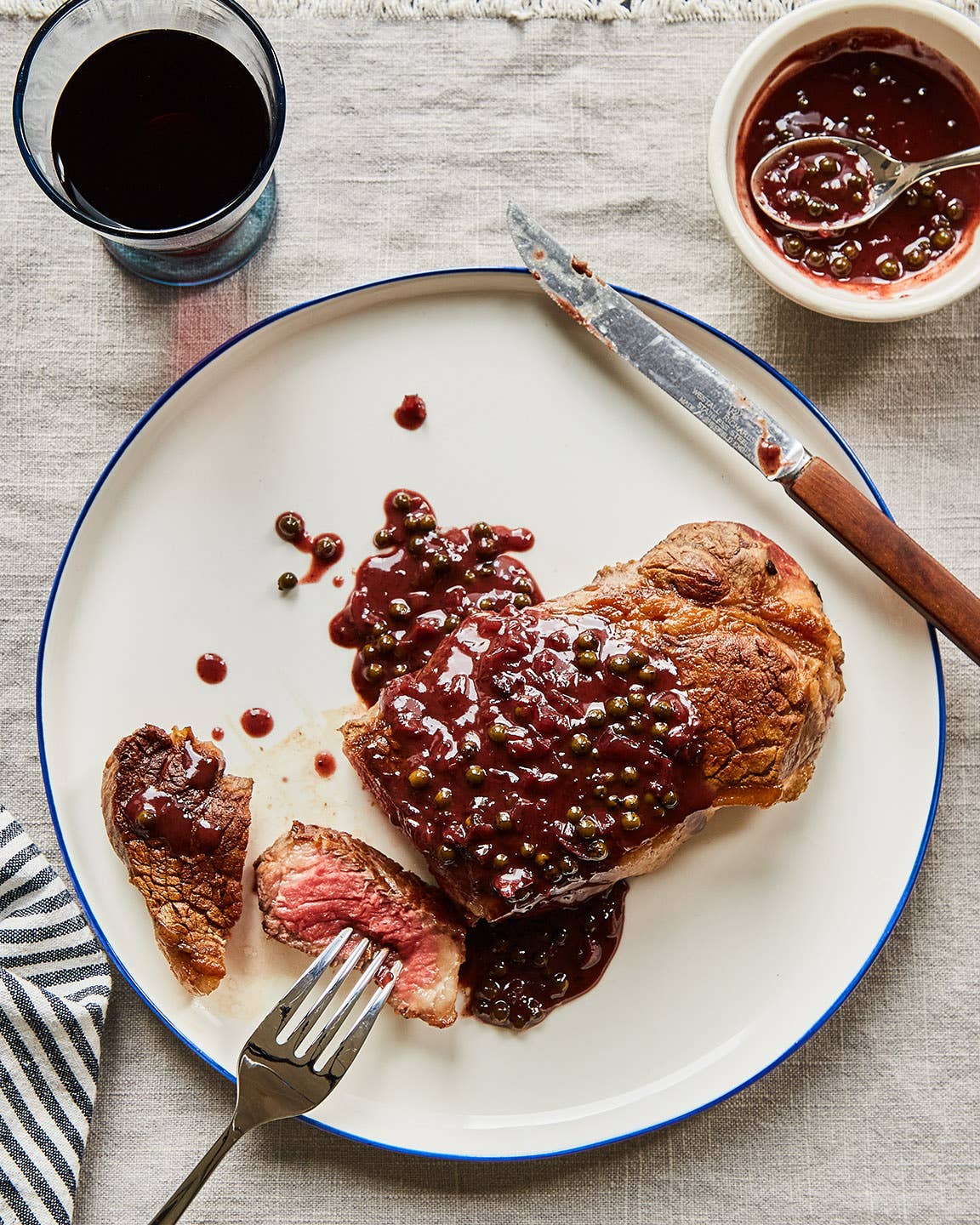 This recipe is based on one in Glorious French Food by American author and culinary arts teacher James Peterson. Steak "au poivre" has been a popular bistro menu staple since the 19th century. A bright, young ruby port adds sweetness to the peppery sauce.
Ingredients
Four 1-in.-thick strip steaks (about 2½ lb.)
Kosher salt
2 Tbsp. extra-virgin olive oil
2 shallots, finely chopped
1½ cups ruby port
2 cups beef stock
1 cup heavy cream
¼ cup brine-cured green peppercorns, rinsed and coarsely chopped
2 tsp. white wine vinegar
Instructions
Step 1
Season the steaks generously with salt, place them on a plate, and cover and refrigerate for 2 hours. Remove the steaks from the refrigerator and set aside at room temperature for 1 hour.
Step 2
Preheat the oven to 200°F. Use paper towels to pat the steaks dry. To a large cast-iron skillet set over medium-high heat, add 1 tablespoon of the oil. When it's hot and shimmering, add 2 steaks to the skillet and cook, turning once, until well browned, 2–3 minutes per side for medium rare. Transfer the steaks to a heatproof platter, tent with foil, and transfer to the oven. Repeat with the remaining steaks.
Step 3
To the empty skillet, add the remaining oil, and turn the heat to medium. Add the shallots and cook, stirring continuously, until fragrant, about 30 seconds. Add the port, turn the heat to medium-high, and boil until the sauce reduces to about ¼ cup, 5–6 minutes. Pour in the beef stock and boil until syrupy, 10–12 minutes. Turn the heat to medium, add the cream, and cook until thickened, 6–8 minutes. Stir in the peppercorns, vinegar, and salt to taste.
Step 4
To serve, remove the platter from the oven and discard the foil. Pour the sauce over the steaks, and serve.