Strip Steaks with Green Peppercorn Sauce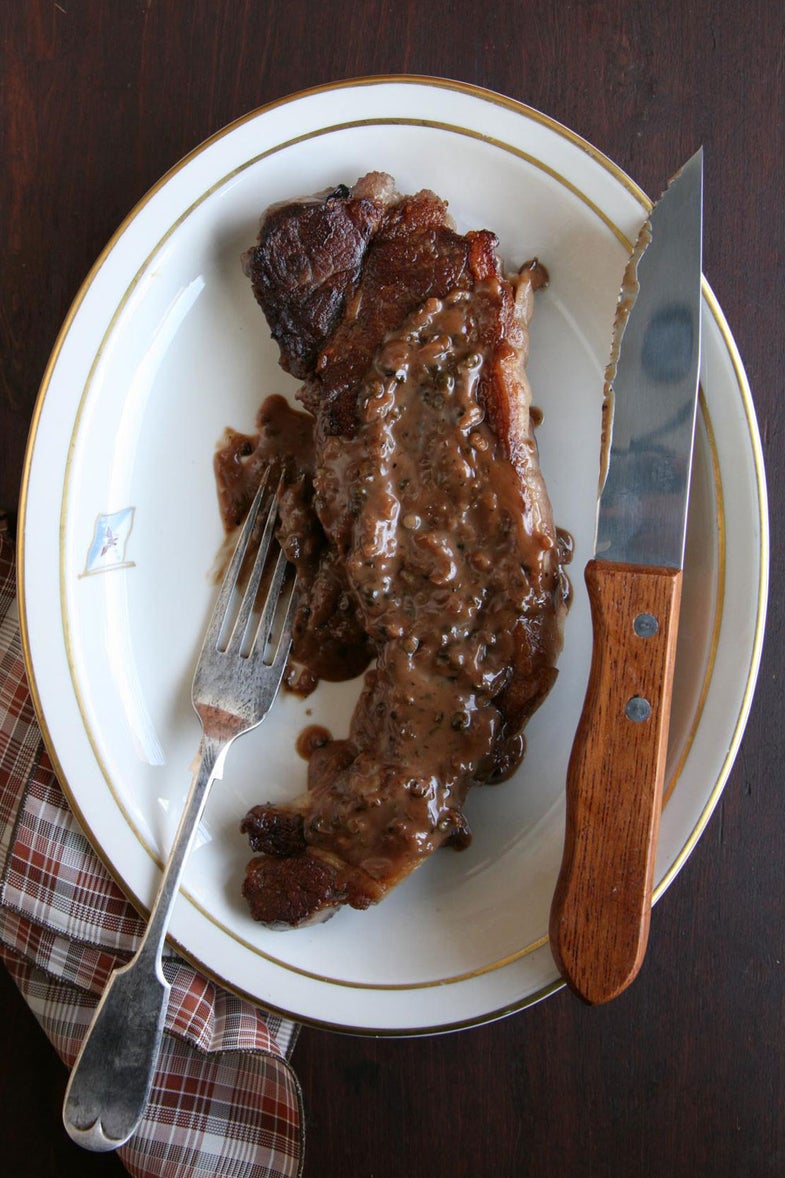 The recipe for this dish is based on one in Glorious French Food by our friend James Peterson (Wiley, 2002). "Strictly speaking," writes Peterson, "an entrecote is a boneless rib steak … but nowadays, in good places at least, it's a contre-filet (what in New York is called a strip steak)."
Strip Steaks with Green Peppercorn Sauce
This classic steak sauce reduction is made earthy and sweet with port and highlighted by the tang of pickled green peppercorns.
Ingredients
4 (1″-thick) strip steaks (about 2 1/2 lbs. in all)
Salt
1 tbsp. extra-virgin olive oil
2 shallots, finely chopped
1 1⁄2 cups ruby port
2 cups beef stock
1 cup heavy cream
1⁄4 cup brine-cured green peppercorns, rinsed and coarsely chopped
2 tsp. white wine vinegar
Instructions
Season steaks with salt to taste on a plate, cover, and refrigerate for 2 hours. Remove steaks from refrigerator and set aside at room temperature to let rest for 1 hour.
Heat oil in a large skillet over medium-high heat. Pat steaks dry; add 2 to skillet. Cook, flipping once, until well browned and medium rare, 4–5 minutes in all. Transfer steaks to a plate and tent with foil; set aside in a warm oven. Repeat with remaining steaks.
Remove skillet from heat and add shallots; stir until fragrant, about 30 seconds. Add port; bring to a boil over medium-high heat. Cook until mixture is reduced to about 1⁄4 cup, 5–6 minutes. Add beef stock; boil until syrupy, 10–12 minutes. Remove skillet from heat; whisk in heavy cream. Return skillet to medium heat; boil gently until thickened, 6–8 minutes. Stir in peppercorns, vinegar, and salt to taste. Pour sauce over steaks.