Stuffed Bresse Chicken with Asparagus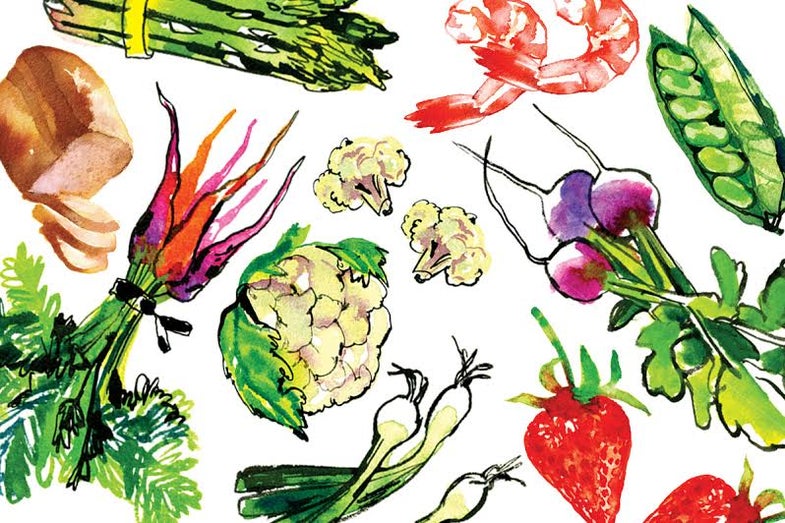 (Poulet de Bresse Farci aux Asperges)
This is Gerard Chave's adaptation of a classic Alain Chapel dish. Bresse chicken is not available here; use the best quality of chicken you can find.
Yield: serves 4-6
Ingredients
8 baby artichokes, trimmed down to heart, stem and base peeled and halved lengthwise
3 baby turnips, peeled, trimmed, and halved
3 small white onions, peeled and halved lengthwise
1 bunch baby carrots, trimmed, peeled, and halved lengthwise
10 Tbsp. butter, cut into pieces
Salt
1 3 1/2–4 1/2-lb. quality chicken
Freshly ground black pepper
1 3⁄4 cups dry madeira
3⁄4 cup chicken stock
1 1⁄4 cups crème fraîche
1⁄2 cup heavy cream
3⁄4 cup shelled fresh peas
1 1⁄2 fresh lemon juice
1 1⁄2-2 bunches asparagus, trimmed
Instructions
Put artichokes, turnips, onions, carrots, 3 tbsp. of the butter, 3 cups water, and a pinch of salt into a wide medium pot, cover, and simmer over medium heat until just tender, 7–10 minutes. Drain and set aside.
Preheat oven to 350°. Generously season chicken inside and out with salt and pepper. Stuff cavity with half the cooked vegetables, then tie legs of chicken together with kitchen twine. Melt 3 tbsp. of the butter in a large ovenproof enameled cast-iron pot or other heavy pot over medium-high heat and brown chicken all over, 10–12 minutes. Transfer chicken to a platter; set aside. Pour off butter and return pot to medium-high heat. Deglaze pot with 1 1⁄2 cups of the madeira, stirring with a wooden spoon, then transfer to a large saucepan and set aside.
Return chicken and any accumulated juices to pot. Roast chicken in oven until juices run clear when pricked, 60–70 minutes. Transfer chicken to a warm platter, setting pot aside, and loosely cover with foil.
Bring a medium pot of salted water to a boil. Meanwhile, return pot with pan juices from chicken to medium-high heat. Add remaining 1⁄4 cup madeira and boil for 1 minute, scraping any browned bits stuck to bottom of pot with a wooden spoon. Add stock and boil until slightly thickened, 4–5 minutes. Reduce heat to medium-low and whisk in remaining butter, 1 piece at a time. Keep sauce warm over lowest heat.
Put saucepan with reserved madeira over medium-high heat and boil until reduced to about 2⁄3 cup, 10–12 minutes. Reduce heat to medium-low and whisk in crème fraîche and cream. Cook favas and peas in pot of boiling water until tender, 3–4 minutes. Using a slotted spoon, transfer favas and peas to cream sauce, add reserved artichokes, turnips, onions, and carrots, lemon juice, and salt and pepper to taste, and simmer until warmed through. Add asparagus over vegetables.
Discard twine from chicken. Carve chicken at the table and serve with vegetables and cream sauce and the warm madeira pan sauce.