Sweet and Sour Potted Meatballs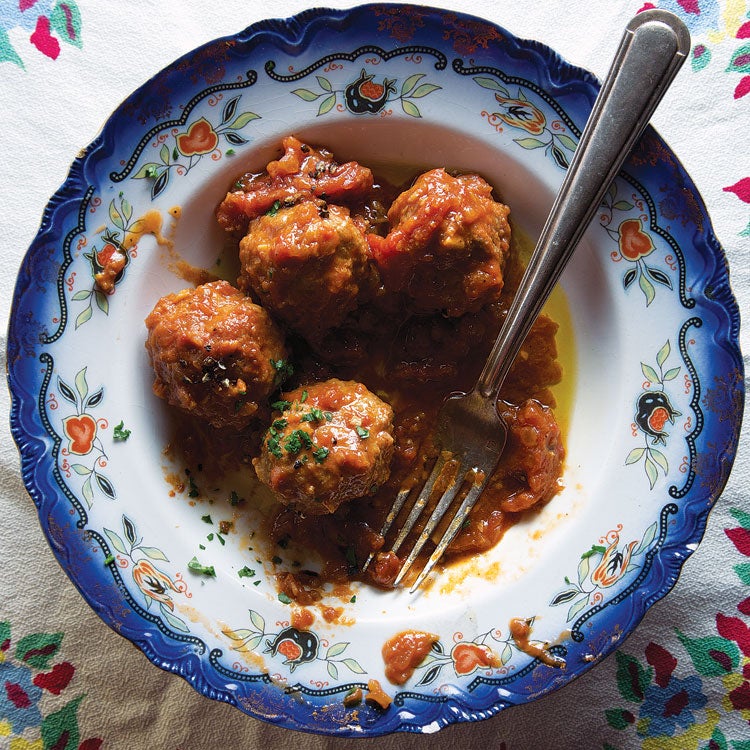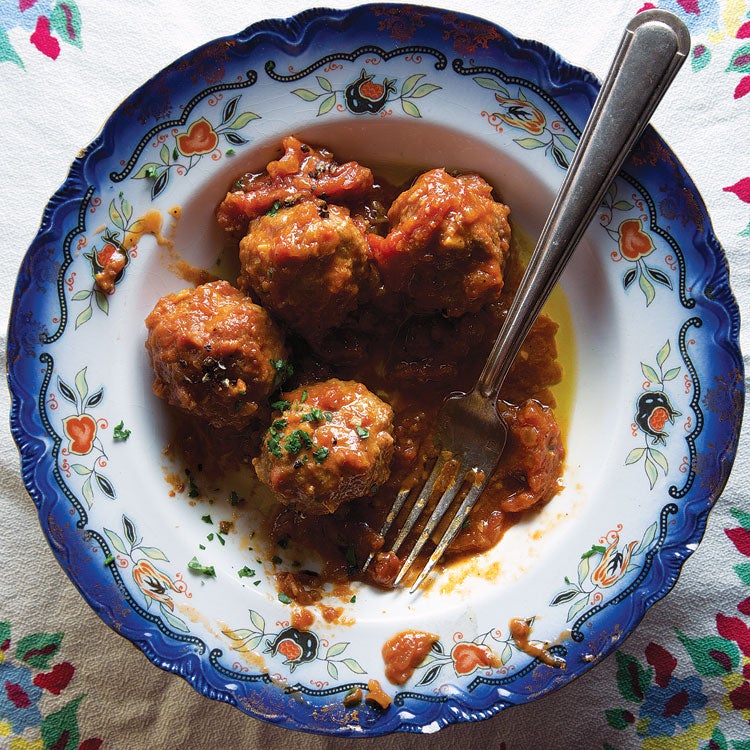 The recipe for these potted meatballs is adapted from Arthur Schwartz's Jewish Home Cooking: Yiddish Recipes Revisited (Ten Speed Press, 2008). This recipe first appeared in our November 2012 issue along with Alex Witchel's story Just Us Cooks.
Sweet and Sour Potted Meatballs
These beef meatballs are braised in a tomato sauce sweetened with a hefty scoop of brown sugar, rounded out by the addition of sour salt or lemon juice.
For the Sweet and Sour Sauce
2 tbsp. canola oil
1 medium yellow onion, minced
1 (15-oz.) can tomato sauce
1⁄2 tsp. sour salt; or the juice of 1 lemon (about 2 tbsp.)
1⁄4 cup firmly packed dark brown sugar
Kosher salt and freshly ground black pepper, to taste
For the Meatballs
2 lb. ground beef chuck
2 eggs, beaten
1⁄3 cup long-grain white rice, parboiled for 3 minutes
1 cup bread crumbs
1 medium yellow onion, grated on the coarse side of a box grater
2 1⁄4 tsp. kosher salt
1⁄2 tsp. freshly ground black pepper
Instructions
Prepare the sauce: In a large Dutch oven, heat the oil, then saute the minced onion over medium heat until tender and golden, 8 to 10 minutes. Add the tomato sauce, and rinse out the can with 1⁄2 cup water to loosen any sauce that remains, adding that liquid to the pan. Stir in the sour salt or lemon juice and brown sugar. Bring to a simmer, uncovered, over medium heat. Remove from the heat and set aside.
Make the meatballs: Put the ground meat in a large bowl and push it to one side. Add the eggs, rice, bread crumbs, onion, salt, and pepper to the other side of the bowl and combine with a large fork. Work in the meat, handful by handful, until everything is thoroughly blended. Return the sauce to a gentle simmer over medium heat. Using a 1⁄2-cup measuring cup, shape meatballs measuring about 2 1⁄2" and drop them gently into the sauce. You should have 10 to 12. Cover and simmer slowly for 30 minutes, gently rotating and pushing the meatballs around halfway through the cooking so that they are thoroughly coated in sauce after about 15 minutes. Correct seasoning with salt and pepper if necessary. Serve very hot.