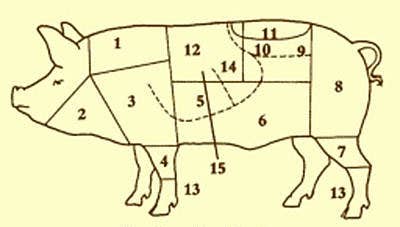 Our favorite pork-centric recipes, from chops to baby back ribs.
America is a pig-loving nation: the animal's meat is tasty and inexpensive, and you can eat almost everything but the oink. Here's a breakdown of the most popular pork cuts, plus a few tasty extras.
This is the largest section of the pig and where you'll find baby back ribs, chops, the pork loin crown, and the tenderloin.
Our favorite pork recipes
Spareribs are not as meaty as baby backs but are definitely juicier and have a porkier flavor. Our recipe for Chinese Barbecued Spareribs enhances that rich flavor with hoisin sauce and Chinese five-spice powder.
Pigs' feet, hocks, and knuckles are under appreciated and misunderstood. They can be added to soups, sauces, and other dishes, often transforming mundane ingredients into something special.—Julie Wilson, SAVEUR
Pigs' feet recipe
Knuckles
Pork hocks