Tutu-Man's Teriyaki Chicken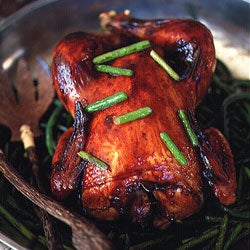 Cookbook author and native Hawaiian Kaui Philpotts gave us this family recipe. Her father, known as Tutu-Man, considered fresh ginger an essential ingredient in the kitchen. This sauce can also be used as a marinade for pork chops, short ribs, or thinly sliced flank steak, so make more then you need—it will keep in the refrigerator for up to a week.
Yield: serves 4
Ingredients
1⁄2 cup soy sauce
1⁄2 cup sugar
1 (1 1/2-inch) piece fresh ginger, peeled and sliced
2 cloves garlic, crushed and peeled
1 tbsp. bourbon
1 (3 1/2-lb.) chicken
Instructions
For the sauce, cook soy sauce and sugar in a small saucepan over medium-low heat until sugar dissolves, about 2 minutes. Stir in ginger, garlic, and bourbon and cook 30 minutes. Remove ginger and garlic. Pour sauce into a small mixing bowl.
Preheat oven to 375°. Rinse chicken and pat dry. Tuck wings under the back and tie legs together with kitchen string for even cooking. Using a pastry brush, coat chicken with sauce both inside the cavity and on the outside.
Place chicken in a baking pan and roast for about 1 hour, basting every 15 minutes. (If you want a darker bird, baste more frequently.) Chicken is done when juice runs clear from a pierced leg. Allow chicken to rest 15 minutes before carving. Serve with long beans or other green vegetables, and garnish with lengths of scallion greens or garlic chives.