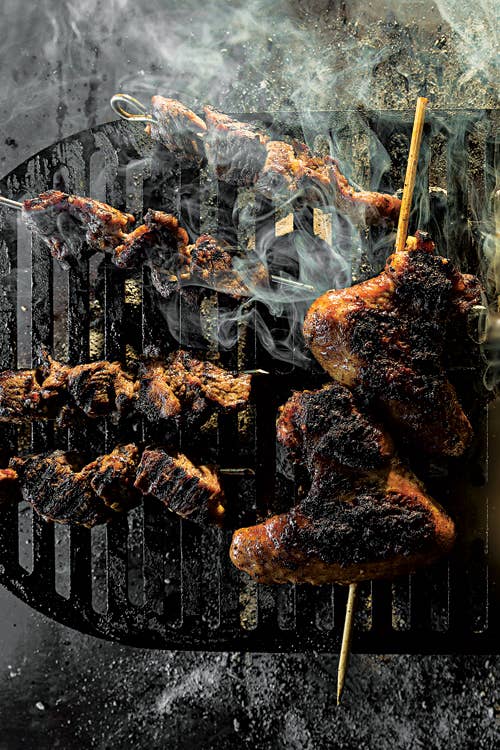 Tender pieces of lamb are marinated in earthy cumin, sweet oyster sauce, and and fiery hot chile flakes before grilling in this classic dish from China's Xinjiang province. This recipe first appeared in our June/July 2013 issue with Lillian Chou's article Fire in the Belly.
¼ cup crushed red chile flakes
¼ cup ground cumin
3 tbsp. peanut oil
2 tbsp. oyster sauce
¼ tsp. ground Sichuan peppercorns
¼ tsp. white pepper
3 cloves garlic, finely chopped
½ small white onion, finely chopped
Kosher salt, to taste
½ lb. lamb shoulder, trimmed and cut into ¾" pieces
4 (6-inch) skewers, soaked in water for 30 minutes
1. Whisk 1 tbsp. chile flakes, 1 tbsp. cumin, the oil, oyster sauce, Sichuan peppercorns, white pepper, garlic, onions and salt in a bowl. Add lamb; toss to coat. Cover and refrigerate at least 4 hours or up to overnight.
2. Heat a charcoal grill or set a gas grill to high; bank coals or turn burner off on one side (see "Grilling 101"). Remove lamb from marinade and thread onto skewers. Sprinkle lamb with remaining chile flakes and cumin, plus salt. Grill lamb on hottest part of grill, turning as needed, until slightly charred and cooked through, 10-12 minutes. If the outside starts to burn before the lamb is cooked, move to the cooler side of the grill until done.