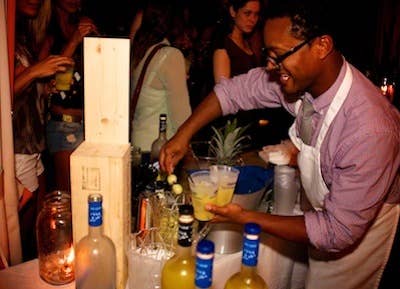 Drinks
A Light Kick Punch
Summer punch recipe by the Grey Goose Punch Wars 2012 National Champion, Glendon Hartley
After weeks of competitions held across the country, the Grey Goose PUNCH WARS culminated in the final challenge—a live bartender showdown in Miami at the Perry Hotel rooftop bar.
Hundreds of guests gathered to watch the eight finalists from the preliminary events face off. Each bartender was given one hour and $100 dollars to buy the ingredients needed to make their original punch, which was to be paired with a local chef's dish, revealed to the contestants the night before. After a race through Whole Foods Market, the contestants headed back to the Perry Hotel where they began mixing their punches in front of a thirsty crowd.
The moment of truth came when the judges—Guillaume Jubien, Grey Goose Brand Ambassador; Ann Tuennerman, Founder of Tales of the Cocktail®; and Chelsea Olson, Editor at EATER Miami—named Glendon Hartley from Farmers Fishers Bakers in Washington, D.C. the ultimate PUNCH WARS champion!
Create his winning recipe at home with Grey Goose La Poire.
Created by Glendon Hartley, Farmers Fishers Bakers (part of the Founding Farmers Restaurant Group), Washington, DC
2 bottles Grey Goose La Poire (60oz)
2 oz Fee Brother's Orange Bitters
1 gallon fresh-pressed honeydew juice
32-64 oz fresh-pressed pineapple juice, to taste
32-64 oz fresh-pressed mango juice, to taste
32 oz fresh-squeezed lemon juice
32 oz Punch War Falernum (spiced syrup), see below
32 oz granulated sugar (after water is heated)
Fill a 1 qt measuring cup with a combination of 70% basil and 30% rosemary and finely chop using a food processor or blender. Add to syrup over low heat. Add 2 oz of finely ground white or young peppercorn to syrup and let steep for 3-7 min. Strain through a fine strainer or cheese cloth, add a touch of vodka for preservation.
- Combine all liquid ingredients and let rest
- Serve in bowl with large cube or block of ice
- Garnish with melon balls and basil, which continue to infuse as punch dilutes and cools