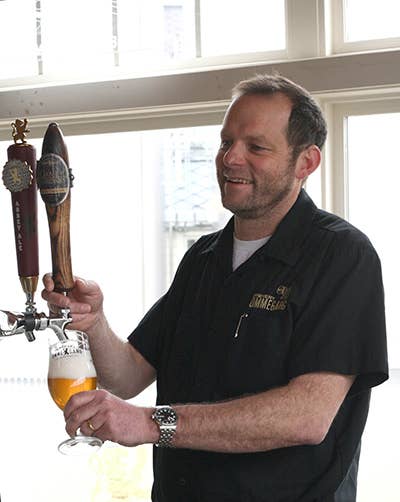 Travel
America's Brewers: Brewery Ommegang's Brewmaster Phil Leinhart
SAVOR: An American Craft Beer & Food Experience celebrates American brewers this June, uniting the everyday drinker and the beer aficionado for a weekend of cuisine and craft brews. June 14 & 15, New York City, Altman Building and Metropolitan Pavilion
With years of big-brewer experience under his belt, Phil Leinhart shares what working with a smaller operation means to him and how the SAVOR: An American Craft Beer & Food Experience event fits the Brewery Ommegang culture.
1. Why and how did you get into the business of making beer?
When I started college back in 1986, I entered as a Chemistry major. About half way through, I realized I really wanted to pursue a career brewing beer like my older brother. We had both grown up tasting and sampling beer from a pretty young age, and while it was certainly exciting to do something that was breaking the rules, what we really loved was the romance and history behind brewing beer. So I completed school with a degree in Chemistry and used my background to get into beer-making at multiple breweries around the world, including operations of all different sizes in the U.S., England, and Germany.
2. How is your beer aesthetic reflected in the Ommegang brews?
I worked my way up from my brewpub days to the well-oiled machines of Anheuser-Busch. It was there that I became a stickler for the controlled processes and exacting results of the technical side of brewing. This is a quality that I've brought with me to Ommegang and a science that these smaller breweries don't always follow.
This, coupled with the support of Ommegang's parent company, Duvel, has elevated our beers to a new level—following the school of thought that how you process the recipe is just as important as the recipe itself.
3. What does being part of the Savor: An American Craft Beer & Food Experience event mean to you as a craft brewer?
SAVOR has always been an event that feels very connected to what Ommegang is doing as a brand—drawing upon the tenants of beer as an accompaniment for food and the collaborative atmosphere between brew-makers and chefs.
This year, Brewery Ommegang is working with two other New York-based breweries—Brooklyn Brewery and Saranac—to create a special release for the 2013 SAVOR event. The brew, aptly named New York Limited, will be presented to attendees as an exit gift.
We're excited to be showcasing this new brew and some favorites along side Chef Adam Dulye's unique food pairings to bring everything full circle.
Fleur De Houblon: Paired with Cured Salmon on Kohlrabi
Three Philosophers: Paired with Pulled Lamb Cassoulet with Flageolet Beans, Pomegranate and Fine Herbs